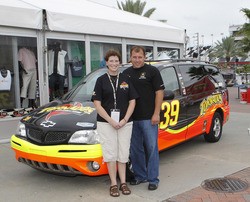 Fresno, CA (Vocus) July 8, 2010
Apple Valley, MN resident Susan Edman didn't know she'd be meeting her favorite NASCAR Sprint Cup Series driver, Ryan Newman, on Saturday, July 3, 2010 prior to NASCAR's Coke Zero 400 at Daytona International Speedway. Thanks to Tornados brand snack food's Facebook Challenge: 'Skin It To Win It,' that was just part of the surprise. Susan Edman, 39, is a breast cancer survivor, a Tornados brand snack food fan and a dedicated Ryan Newman NASCAR Sprint Cup Series fan. When her husband, Chris, learned of the Tornados Facebook challenge: 'Skin It To Win It' – tell Tornados what you would like skinned and why – he decided to enter on his wife's behalf.
Out of nearly 2,500 submissions from across the United States, Chris' entry (his wife's van) was selected and plans for the surprise began to take place. The van's reveal was on Saturday, June 26. On Wednesday, June 30, Susan, her husband, and their three children drove her newly wrapped 2002 Pontiac Montana van to Daytona to see the #39 Tornados Chevrolet race, compliments of Tornados brand snack food.
According to Chris Edman's entry: "My wife survived breast cancer last year and while Ryan Newman has always been her favorite, he was especially helpful during chemo, although he will never know that. Watching him race … was a welcome distraction for her while enduring the weekly poison that ultimately saved her life. Skinning her van would blow her mind – she deserves to have something fun happen to her, as do all those whom cancer has touched …. The entire time she was going through this, she only missed a handful of days from work, and when she was home, she still put 8-10 hours in from home. That includes the recovery time from her bilateral mastectomy and 6 months of treatments after that, plus all of the reconstruction surgeries."
Tornados – a convenient snack filled with grilled meats, melted cheeses and bold flavors wrapped in a crispy crust – is available in most convenience and retail grocery stores nationwide. America's #1 roller grill snack food, it has more than14 flavors from which to choose. Six bold retail flavors include: • Ranchero Beef & Cheese Tornados • Grilled Chicken & Cheese Tornados • Chicken Club Tornados • Southwest Chicken Tornados • Cheesy Pepper Jack Tornados • Cheesy Pepperoni Tornados
The Tornados 'Skin It to Win It' challenge asked Facebook fans to nominate their vehicle to be wrapped like the No. 39 Tornados racecar. The grand prize was: an opportunity to see Ryan Newman race, $1000, an iPod nano and a free vehicle wrap. Other prizes included tens of thousands of dollars in electronics, Tornados racing merchandise, coupons and more. The Facebook promotion, which began March 5, 2010 and ended May 3, 2010, generated impressive statistics: • 182,092,217 brand impressions • 632,102 active interactions • 221,512 votes and comments • 2,471 user submissions
ABOUT RUIZ FOODS Ruiz Foods is a privately owned corporation with corporate offices in Dinuba, Calif. Third-generation Bryce Ruiz, the elder son, is President and CEO. Kim Ruiz Beck, the elder daughter, is chairman. Their father, Fred Ruiz, is Co Founder and Chairman Emeritus. Ruiz Foods is dedicated to premium quality, authentically prepared frozen foods selling to all channels of distribution: retail, convenience store, clubs, vending, industrial and foodservice. The Tornado brand, introduced just five years ago, has revolutionized the use of the roller grill in convenience stores and is also available in retail grocery stores nationwide. The El Monterey® brand is the market leader within the frozen Mexican food category and the No. 1 brand of frozen Mexican food in the U.S. Ruiz Foods employs over 2,500 Team Members in three facilities located in the U.S. For more information regarding Ruiz Foods, please visit http://www.ElMonterey.com. For more information about Tornados, please visit http://www.MyTornados.com.
###