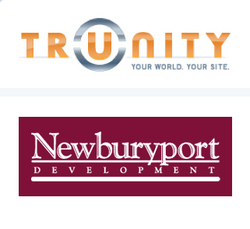 Trunity is not only a website platform
Boston, MA (Vocus) July 29, 2010
Trunity.net has chosen 15 Green Street in downtown Newburyport as its new headquarters. The deal comes with the help of Newburyport Development, a leading property owner and manager in the Newburyport community.
With its high ceilings, exposed brick, and unique architecture, the Strand Theater's building caught the eye of Trunity's creative director, Mariah Gale. The upper floors' commercial space provides an open, light-filled atmosphere facilitating creative collaboration, with all of the functional qualities needed for the company's success.
We couldn't have found a better fit for Trunity," Mariah Gale says. "The atmosphere of the space and downtown Newburyport perfectly complements our team."
"Trunity is not only a website platform," stated the company's CEO, Terry Anderton. "It is a growing creative community, providing companies and individuals with access to the world of social media. The Green Street space is the perfect location for the growth and exploration involved in Trunity's expansion."
Downtown Newburyport means more than just an ideal property; the area is the perfect location for a business looking to expand and reach out to the greater community. Located close to the commuter rail from Boston, the area is easily accessible by the newly-built Clipper City Rail Trail that leads from the train station to downtown.
Ann Lagasse, Leasing Director for Newburyport Development shared that "We are pleased Trunity has decided to take the second floor of the 15 Green Street – the former Strand Theater. We feel they will be a great addition to the downtown business community." 
Trunity is excited to bring new careers to this vibrant community, and looks forward to growing along with Newburyport.
About Trunity, Inc. (http://www.trunity.net)
Trunity gives businesses, organizations and individuals the power to organize information, build communities and engage people.  Trunity integrates authoring, blogging, news, events, multimedia, and social networking functionality into a unified platform with robust collaboration and content management functionality, giving individuals and organizations a new and cost-effective way to develop online content and catalyze community activity. The Trunity platform also features a unified directory, content sharing and user identity functionality, enabling collaboration within and across communities.  Since launching its public beta, hundreds of people and diverse organizations comprising a diverse range of case studies involving NGOs, advocacy, civic, educational and commercial organizations have migrated to the platform. Today, the platform also hosts many websites built by individuals for self-publishing, art hobbies, blogging, family archives and social networking.
Trunity
Mariah Gale, Creative Director
978.764.6257
http://www.trunity.net
Newburyport Development
Tina Santoro-Smith Marketing Director
978.225.1541
http://www.newburyportdevelopment.com
###