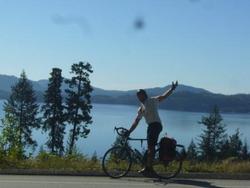 I see microfinance as a sustainable cause that empowers people to take ownership of their lives
Lancaster, PA (Vocus) September 22, 2010
A recent San Diego State MBA graduate has spent the month of September biking 2,000 miles from Vancouver, Canada, to Tijuana, Mexico, to raise funds and awareness for a business initiative that has the potential to change lives around the world. Twenty-six-year-old Brandon Napoli, of San Luis Obispo, Calif., represents HOPE International, a Lancaster, Pa.-based nonprofit network of microfinance institutions dedicated to alleviating physical and spiritual poverty in 14 countries around the world. Brandon will be passing through cities along the coast from San Francisco to San Diego from September 21 thru October 1, and then heading south to his final destination, Tijuana, Mexico.
Brandon and two friends ride roughly 70 miles and four to five hours per day, stopping frequently to share the impact of Christ-centered microfinance with those they meet along the way. A sustainable solution to poverty, microfinance provides basic financial services to some of the world's poorest, offering access to savings services or small loans that enable entrepreneurs to start their own business and provide for their family.
When friends invited Brandon to join them for this strenuous ride, he knew immediately that he wanted to participate – and that he wanted the journey's impact to outlast the 30-day trip. Having been involved in microfinance domestically and having traveled to several developing nations – including the Dominican Republic, Kenya, Malawi, and Mexico – Brandon has witnessed the significant impact of microfinance to help men and women pull themselves and their families out of poverty. "I see microfinance as a sustainable cause that empowers people to take ownership of their lives," he says. "A lot of charities enable people or give them a fish without ever teaching them to fish. … Microfinance is a sustainable way to leave a lasting legacy."
Brandon's desire to serve and make a difference will only continue when his cycling trip ends. This fall he will enter the Peace Corps, relocating to Latin America for the next two years. "I understand poverty from an academic perspective," Brandon says of his educational background in international development. "Now I want to empathize with the poor."
Those interested in meeting Brandon along his journey or arranging for him to speak to their small group about the impact of Christ-centered microfinance should contact Brandon at 805-550-7275 or brandonnapoli(at)gmail(dot)com.
About http://www.hopeinternational.org HOPE International (HOPE): Headquartered in Lancaster, Pa., HOPE International empowers those living in need around the world to escape poverty by providing microloans, savings services, training, and mentoring to help people become self-sufficient. Working in 14 of the poorest, least-served countries in Africa, Asia, Eastern Europe, and the Caribbean, HOPE is a Christian faith-based 501(c)(3) nonprofit organization focused on alleviating the many dimensions of poverty – physical, social, and spiritual – through microenterprise development.
Watch a video about the life-changing impact of HOPE International's work.
Contact: Katie Straight
Public Relations Coordinator
HOPE International
540.229.3152
###