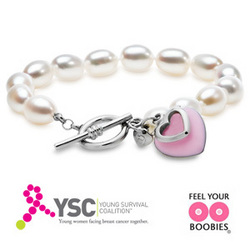 Pompano Beach, FL (Vocus) October 1, 2010
Celebrating 25 years of awareness, education and empowerment, National Breast Cancer Awareness Month kicks off October 1. To aid in the unending hope and search for a cure, the world's most romantic jeweller, Amoro, is introducing the Amoro Hope Pink Enamel Heart and Pearl Bracelet.
Crafted with love, hand knotted silk thread supports primarily flawless AA quality Pearls, with exquisite sterling silver and pink enamel heart-shaped charms adorn the bracelet. Amoro's exquisite bracelet serves not only as a statement piece in your jewellery wardrobe, but as a statement piece in your support to end breast cancer.
For the month of October, Amoro will donate a total of $20 from the purchase of each Hope Pink Enamel Heart and Pearl Bracelet. A $10 donation will be made to Feel Your Boobies, a non-profit organization dedicated to creating annual reminder campaigns that use unexpected and unconventional methods to remind young woman to examine their breasts.
Amoro will also donate $10 to The Young Survival Coalition, an international organization dedicated to the issues unique to young women with breast cancer. YSC works with survivors, caregivers and the medical, research, advocacy and legislative communities to increase the quality and quantity of life for women diagnosed with breast cancer ages 40 and under.
Join Amoro in supporting National Breast Cancer Awareness Month this October by contributing to two fabulous causes with the purchase of the Amoro Hope Pink Enamel Heart and Pearl Bracelet. Together we can spread awareness and fight breast cancer.
About Amoro: Amoro provides fabulously affordable fine jewellery in precious metals and a variety of gemstones including the Amoro Eternity Cut® Diamond. Founded in the Caribbean by jewellery visionary Stephen Crane, Amoro derived its name from a combination of the Latin words for Love and Gold. Representing the world's most romantic jewellery, each creation is intricately designed to uphold Amoro's tradition of fine craftsmanship ensuring that every item becomes a romantic celebration worthy of the Amoro name. For more information on the Quality, Service and Vision of Amoro and to view the complete offering of romantic jewellery, visit http://www.Amoro.com.
Media Contact: Russell Ackner, Director of eCommerce, 877-77 Amoro; rackner(at)amoro(dot)com
###