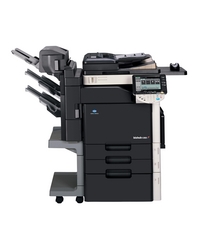 The Konica Minolta-Pharos partnership is delivering an integrated solution that will provide customers with enhanced levels of control and security directly at the MFP, while also reducing printing costs
Ramsey, NJ and Rochester, NY (Vocus) October 12, 2010
Konica Minolta Business Solutions U.S.A., Inc. (Konica Minolta), a leading provider of advanced imaging and networking technologies for the desktop to the print shop, and Pharos Systems International (Pharos), an award-winning provider of print management software and services, today announced a new integrated solution, which provides authentication, print/copy, accounting, print release, and printing security on Konica Minolta's award-winning line of bizhub® multifunctional printers (MFPs – print, copy, fax, and scan all in one system).
Pharos has earned certification as a Platinum-Level Partner in the bizhub Extended Solutions Technology program (bEST). An integral part of Konica Minolta bizhub OP (Open Platform), the bEST Partner Program enables a seamless interface between bizhub MFPs and software applications residing on a PC or server. The customized solution developed using the bEST technology includes applications for print management, cost control, and networking, all accessed directly from the bizhub MFP control panel.
The new integrated solution enables Pharos-powered authentication, accounting and secure print release on bizhub MFPs with Pharos Uniprint® software for the Education market and Pharos Blueprint® Enterprise software for the Corporate market. The integrated solution offerings are compatible with all color and B&W office workgroup MFP's that support the bEST technology, and all production print models that offer key counter support.
The Konica Minolta-Pharos solution ensures that only authorized people can use the bizhub MFP by requiring them to authenticate before they can print, copy, scan or fax. Authentication can be card-based (a wide variety of magnetic stripe, proximity, and smart cards are supported) or end users may enter their credentials on the MFP's touch-screen keypad.
"The Konica Minolta-Pharos partnership is delivering an integrated solution that will provide customers with enhanced levels of control and security directly at the MFP, while also reducing printing costs," said Sam Errigo, Senior Vice President, Business Intelligence Services, Konica Minolta Business Solutions U.S.A. Inc. "Our partnership gives customers another great reason to count on Konica Minolta to help them make cost-effective, intelligent print product decisions."
The Pharos Secure Release Here® pull-printing application on the integrated Konica Minolta-Pharos MFP provides document security, waste reduction and convenience. Jobs are printed only when the person who submitted them is physically present at the integrated MFP, which significantly reduces the risk of documents ending up in the wrong hands or getting lost in piles of printouts. Users select only the documents they want to print using the MFP's touch-screen. They can manage print jobs as required or simply let the system automatically purge them after a time interval set by the customer. Secure Release Here enables users to walk up to any enabled MFP, no matter where it's located, and release their print jobs.
Integration of bEST Open API MFPs with Uniprint software supports cost recovery through pay-for-print and pay-for-copy programs for colleges and universities. Students can check their account balance on the MFP's touch-screen and review the cost of each job before printing. Departmental Chargeback is a supported feature of both Uniprint and Blueprint Enterprise, allowing printing and copying costs to be charged to and reported at a cost center or individual user level.
"We are looking forward to a dynamic partnership with Konica Minolta," said Tom Cody, Director of Business Development for Pharos Systems. "They are a recognized technology leader who shares Pharos' vision of making every print an intelligent decision. Our joint offering brings significant value to customers looking to evolve their output environment in a controlled and responsible manner."
The solution has passed the bEST Certification Test performed by the Konica Minolta Solutions Engineering Center. The current list of supported bizhub MFP models is available at http://www.pharos.com/KonicaMinolta-imfp.
About Konica Minolta
Konica Minolta Business Solutions U.S.A., Inc. is a leader in advanced imaging and networking technologies for the desktop to the print shop. For the third consecutive year, Konica Minolta was recognized as the #1 Brand for Customer Loyalty in the MFP Office Copier Market by Brand Keys. For more information, please visit http://www.CountOnKonicaMinolta.com and follow Konica Minolta on Facebook (@Konica Minolta Business Solutions U.S.A), YouTube (@KonicaMinoltaUS), and Twitter (@KonicaMinoltaUS).
About Pharos
Making every print an intelligent decision™ is the mission of Pharos Systems International, Inc. Pharos Systems provides powerful print management software and related services to large corporations, educational institutions, and libraries across the globe. Pharos solutions save customers money, reduce waste, and make it easy to secure devices and documents. The company is headquartered in Rochester, N.Y. and maintains an R&D facility in Auckland, New Zealand. For more information, please visit http://www.pharos.com.
Konica Minolta Contact
James Norberto
Konica Minolta Business Solutions U.S.A., Inc.
+1 201.825.4000
PR(at)kmbs(dot)konicaminolta(dot)us
Pharos Contact
Laura Knecht
Pharos Systems International
Public Relations Office
585-360-1046
lknecht(at)pharos(dot)com
Konica Minolta is a trademark of Konica Minolta Holdings, Inc. bizhub is a registered trademark of Konica Minolta Business Technologies, Inc. Pharos, Uniprint, Pharos Blueprint, and Secure Release Here are trademarks or registered trademarks of Pharos Systems International, Inc. All other trademarks mentioned in this document are the property of their respective owners.
###