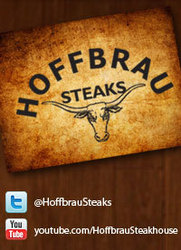 Dallas, TX (Vocus) November 8, 2010
Hoffbrau Steaks, a local steakhouse with 6 North Texas locations (Granbury to open in December), is expanding its online presence through Facebook, Twitter, YouTube and a new blog, which launched November 1, 2010. This social media project is a compliment to their recently redesigned and optimized website.
As a well-known steakhouse in North Texas for the past 30 years, Hoffbrau Steaks wants to capitalize on opportunities to stay connected with their loyal customers online, so they partnered with Dallas-based Splash Media, an Emmy Award-winning digital and social media solutions firm.
"We are excited to step into this new agreement with Splash Media, because social media is obviously the future of restaurant marketing. Hoffbrau has been a local icon for the past 30 years and now it is time to spread the word online. We can't wait to engage even more with the online fans that have made Hoffbrau Steaks what it is today," said Rainey Fogiel, Owner at Hoffbrau Steaks.
Hoffbrau Steaks will use a variety of tools in their social media efforts, including launching a new blog that will feature Hoffbrau history, restaurant recipes and tips from the steak experts.
About Hoffbrau Steaks
Hoffbrau Steaks has 6 North Texas locations and has been a favorite of local customers and tourists since 1978. Hoffbrau is unique in that it's the only steakhouse to cut and process its own beef. Hoffbrau Steaks owns their own USDA meat plant, so you know that you are getting the very best cuts available, and food quality that is unmatched. For more information on Hoffbrau Steaks, visit http://www.hoffbrausteaks.com
About Splash Media
Splash Media LP, based in Addison, Texas, is one of the largest agencies in the Southwest providing internet marketing, social media marketing and strategic video solutions. Splash offers a unique mix of services that blending interactive digital marketing with Emmy Award-winning video production.
Splash Media's team of social media and web marketing experts design custom-built strategies including search engine marketing/optimization, website design and link-building.
###