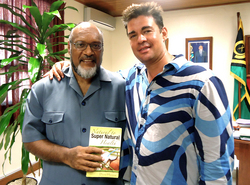 I was very much looking forward to meeting David personally
Orlando, FL (Vocus) November 30, 2010
Phoenix-Scottsdale, AZ (Vocus) November 30, 2010 -- Where in the world is Vanuatu? It is safe to say that not many U.S. authors get to spend time with both the President and the Prime Minister of Vanuatu. David Herzog can make the claim. 'Natural to Super Natural Health' is the newest, award-winning book from motivational keynote speaker, nutrition and life coach, David Herzog. Edward Natapei, the outgoing Prime Minister of Vanuatu is his newest fan.
"I was very much looking forward to meeting David personally," said Natapei. "Vanuatu is rated the 'Happiest Nation on Earth' two years in a row. The people are the most friendly and violence is practically unheard of compared to most western nations. It is one of the safest places in the world."
Iolu Abil, the President of Vanuatu and Natapei talked about current events with the author. Herzog gave his counsel and insight into the areas of health as many in Vanuatu have started eating western diets causing more sickness and shorter life spans.
David Herzog states that this book draws on years of experience to discuss universal concepts of motivation, reprogramming the mind for success, ultimate health and tapping into a higher power source to create peak performance and transform the body.
"You will learn not only how to go from natural to super natural living with miracle super-foods and lifestyle, but how to tap into the highest power source that exists today," explains Herzog. "The idea is to first find out what part of your body is aging the fastest. Once you repair once part of the body through brain health, the other parts start to heal and reverse even before you start working on them."
According to Herzog, it all starts with brain health.
As the new book explains, the body is actually designed to re-create itself. In fact, 98 percent of the atoms in your body re-create itself every year. Every month your skin is totally renewed and every three months, your skeleton is re-created. Every five days, you have a new stomach lining that is created.
"Aging starts to occur in the brain," said Herzog. "As you age, certain chemicals in your body start to diminish. As this diminishes, it sends a death code to other parts of the body. If you can revitalize these brain chemicals to the same levels as when you were younger, you can slow down and even reverse the aging process."
"One of the least talked about subjects has to do with the brain and how it affects everything in your body. The brain is the control center of everything. Once you learn how to feed and utilize this control center you can literally start to see drastic changes beyond any diet and begin to experience age reversal," adds Herzog.
About Vanuatu
Vanuatu - a string of more than 80 islands in the South Pacific once known as the New Hebrides - achieved independence from France and Britain in 1980.
Most of the islands are inhabited; some have active volcanoes. Vanuatu is mountainous and much of it is covered with tropical rainforests. Like most of the area, it is prone to earthquakes and tidal waves. Most of the people live in rural areas and practice subsistence agriculture.
Vanuatu has been spared the unrest which has befallen neighboring countries such as the Solomon Islands and Fiji, although the largest island, Espiritu Santo, experienced a brief insurrection in 1980. Local traditions are strong. Women, for example, generally have lower social standing than men and have fewer educational opportunities. Despite strong growth, the economy has struggled to meet the needs of Vanuatu's expanding population. The main sources of revenue are agriculture and eco-tourism.
About David Herzog
David Herzog is a certified nutrition coach, motivational speaker, and life coach. He has helped actors and entertainers, government heads of state worldwide, businessmen, health and sports professionals, has been invited to the White House, and has shared his keys at the United Nations. He has appeared on numerous television and radio interviews, and his work has taken him across North and South America, the Caribbean, Europe, Africa, Asia, the Middle East, Australia and New Zealand, and among the native tribes of the Americas, the Arctic and the islands. Hundreds of thousands of people have been inspired by his motivational keynotes, seminars and conferences around the globe. The new book is an extension of his philosophy and is an exciting addition to David's growing list of achievements.
Keywords: David Herzog, anti-aging, wellness, preventive, health, medical, pharma, Super Natural Health, age reversal, brain, central nervous system, health news, entertainment news, books, new age, nutritional, raw food, natural food, vitamins, brain food, weight loss, Sedona
###