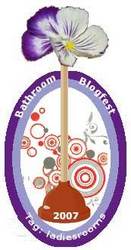 When we think about customer experience, one experience is common to all of humanity -- the need for bathroom facilities
Kennesaw, GA (PRWEB) October 24, 2007
Flooring The Consumer, an award-winning blog by Wear-Dated® Carpet Fiber's director of in-store innovation, Christine Whittemore, will participate in the web's annual Bathroom Blogfest. Twenty-two bloggers -- all women except for one -- have signed up to contribute blogposts discussing the importance of ladiesrooms to the customer retail experience. The blogfest will take place from October 28 to November 2, 2007, coinciding with National Kitchen and Bath Month.
Although often overlooked, the condition of a retailer's bathroom significantly affects the consumer retail experience--positively or negatively. Bathroom Blogfest, the brainchild of Stephanie Weaver and Susan Abbott, both authors and consultants, addresses this impact from a woman's perspective. Because women make most retail purchasing decisions, their opinions about retail stores, customer service, and even bathrooms can make or break sales.
"When we think about customer experience, one experience is common to all of humanity -- the need for bathroom facilities," said Abbott. "It's a great topic for exploring ways to think about retailing, using a lively and engaging topic everyone can relate to."
Originated in 2006, the annual Bathroom Blogfest brings together female bloggers specifically focused on customer experiences. These women discuss the good, the bad and the ugly about ladiesrooms and why they can make or break a retail experience.
"All of us participating in Bathroom Blogfest strive to promote the importance of creating great customer experiences," Whittemore said. "In the midst of Kitchen and Bath month, we wanted to emphasize just how critical restroom impressions are to female consumers and therefore to flooring retailers."
Bloggers participating in Bathroom Blogfest '07 include:
Kate Rutter--Adaptive Path
Laurence Helene Borel--Blog Till You Drop
Iris Shreve Garrott--checking out and checking in
Susan Abbott--Customer Experience Crossroads
Maria Palma--Customers Are Always
Becky Carroll--Customers Rock!
Toby Bloomberg--Diva Marketing
Stephanie Weaver--Experienceology
Linda Tischler--Fast Company Now
C.B. Whittemore--Flooring the Consumer
Ed Pell--K+B DeltaVee
Helene Blowers--Library Bytes
Claudia Schiepers--Life and its little pleasures
Katie Clark--Practical Katie
Sandra Renshaw--Purple Wren
Reshma Anand--Qualitative Research
Marianna Hayes--Results Revolution
Carolyn Townes--Spirit Women
Sara Cantor--The Curious Shopper
Anna Farmery--The Engaging Brand
Dee McCrorey--The Ultimate Corporate Entrepreneur
Katia S. Adams--Transcultural
For a glimpse of what to expect during the 2007 Bathroom Blogfest, read the 2006 articles on http://flooringtheconsumer.blogspot.com/search/label/Bathroom+Blogfest. If you'd like to contribute thoughts on the flooring retail experience, contact Christine Whittemore at cbwhit @ solutia.com.
Also visit Bathroom Blogfest, a site dedicated to the 2007 Bathroom Blogfest, to view the most up-to-date blogposts relating to "ladiesrooms".
Note to Editor: Wear-Dated is a registered trademark of Solutia® Inc.
Wear-Dated® Carpet Fiber
Carpets made with Wear-Dated carpet fiber are tough tested and certified for unsurpassed durability, assuring carpet that looks better longer and is backed by full five-year normal wear and full seven-year stain and soil warranties. For more information, visit http://www.weardated.com.
Solutia
Solutia uses world-class skills in applied chemistry to create value-added solutions for customers, whose products improve the lives of consumers every day. Solutia is a world leader in performance films for laminated safety glass and after-market applications; chemicals for the rubber industry, specialties such as heat transfer fluids and aviation hydraulic fluid; and an integrated family of nylon products including high-performance polymers and fibers.
Solutia ... Solutions for a Better Life.
Contact:
Christine Whittemore, director of in-store innovation
Wear-Dated carpet fiber
Solutia Inc.
973-283-2424
###