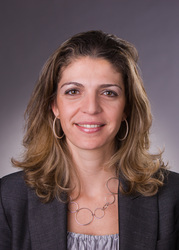 I am excited to be returning to the summit. We're in a rapidly changing environment with technology driving marketing innovations. Harnessing these changes using a well-honed news release strategy can help businesses increase their web traffic and grow their bottom line
Lanham, MD (PRWEB) April 8, 2010
PRWeb, the online news distribution service of Vocus (NASDAQ: VOCS), will host a presentation about building a news release strategy to drive web traffic, during the eCommerce Summit in Las Vegas, Nevada from April 13-15. Back by popular demand, Sophie Shiatis, PRWeb's vice president of Ecommerce, will lead the April 14th presentation.
"I am excited to be returning to the summit. We're in a rapidly changing environment with technology driving marketing innovations. Harnessing these changes using a well-honed news release strategy can help businesses increase their web traffic and grow their bottom line," explained Shiatis, an industry veteran who leads PRWeb's Ecommerce strategy. "I will be sharing the latest thinking and practical tips to help companies be part of the evolving online marketplace."
Search engines give news releases a high quality score for content and search rankings. The eCommerce Summit presentation, entitled "Using Your News to Drive Web site Traffic" will explore tips and strategies to leverage these important communications tools. Shiatis, whose extensive background includes web marketing and running her own online business, will lead the session scheduled for April 14th at 11:15 a.m.
During this session, Shiatis will share SEO secrets, covering the new rules for cost-effective online news releases and demonstrating how search engine marketers and online merchants are using news releases to drive traffic to their websites and increase their online visibility. Participants will learn how to build a press release strategy that uses keywords, multimedia, and social media that improves ROI, increases SEO results and buyer traffic.
PRWeb a pioneer in direct-to-consumer distribution, search engine optimized press releases and multimedia news. News releases are distributed through search engines, RSS feeds and directly to tens of thousands of journalists and editors through e-mail. Through partnerships with prominent news outlets like the Associated Press, Yahoo! News and AOL, PRWeb news releases are available to an online audience of more than 70 million unique visitors in the United States alone.
Taking place at the Las Vegas Flamingo Hotel & Casino on 3555 Las Vegas Blvd S in Las Vegas, the popular summit is organized by eCommerce Merchants Trade Association, founded in 2005 by a group of online retailers who realized that by working together they could enjoy the premium services and discounted pricing normally available to very large companies. More conference information—including registration - can be found at http://www.ecommercesummit2010.com.
About PRWeb:
PRWeb is recognized as a leading online news and press release distribution service worldwide. Since 1997, PRWeb has been changing the way businesses, marketing departments and public relations firms think about press releases. PRWeb was the first company to develop a distribution strategy around direct-to-consumer communication and to build and offer a platform for search engine optimized press release distribution. PRWeb is an online news distribution service of Vocus, Inc., a leading provider of on-demand public relations management software. For more information, visit http://www.prweb.com.
###