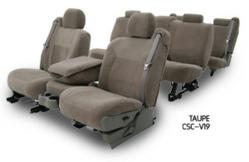 Nothing makes a car's interior more inviting then a set of custom coordinated seat and dash covers from Coverking.
Aliso Viejo, CA (PRWEB) May 06, 2013
Each year in April and May, AccessorizeYourVehicle.com will feature products that their customers can use to renew the appearance of their vehicle. As we transition from the cloudy skies of winter to the springtime sun, people are looking for ways to brighten the appearance of their cars and trucks.
For the entire month of May, AccessorizeYourVehicle.com customers will enjoy big savings on Coverking seat covers and coordinating Coverking Dash Covers.
In addition to savings opportunities, visitors to AccessorizeYourVehicle.com will find fresh new articles on our blog that will present ideas that can be used to spruce up their vehicle's appearance. Our first articles will feature eco-friendly products that can be used to restore the luster to interior and exterior surfaces.
About AccessorizeYourVehicle.com:
For almost a decade AccessorizeYourVehicle.com has been providing affordable, high-quality accessories for cars, trucks, boats, and ATVs. It offers everything from seat covers to floor mats to anti-theft devices. To find out what AccessorizeYourVehicle.com can do for you, visit http://www.AccessorizeYourVehicle.com.