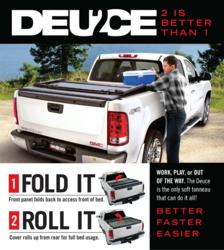 We are excite to be able to offer the complete line of TruXedo tonneau covers and accessories. For 13 years TruXedo has produced high quality and functional products right here in the USA.
Aliso Viejo, California (PRWEB) February 27, 2013
AccessorizeYourVehicle.com is creating more choices for its customers by adding TruXedo tonneau covers and accessories to its lineup. In addition to the TruXedo product line, AccessorizeYourVehicle.com is expanding its product offerings from Agri-Cover. Agri-Cover is the maker of Access Tonneau Covers which are already featured on the AccessorizeYourVehicle.com web site. In addition to the Access Tonneau Covers, the Access line of truck bed accessories, some of which are truly unique, are also being added.
A tonneau cover is always a value added investment for a pickup truck owner because it increases the truck's resale value, provides additional security for the owner's valuables in the truck bed and improves gas mileage by 10%.
Since the introduction of the Original TruXedo in 2000, TruXedo, Inc. has continuously introduced new and innovative tonneau cover concepts that emphasize style, quality, durability and functionality. Their latest product release is the TonneauTraX which integrates a complete cargo control solution into the tonneau cover design. Additionally, TruXedo is expanding into other segments of the truck accessory market with new products such as the TonneauMate toolbox.
In addition to TruXedo's entire line of tonneau covers (TruXedo Lo Pro, TruXedoPlus, TruXedo Deuce, TruXedo Lo Pro QT and TonneauTraX), the complete line of TruXedo accessory items, TonneauMate tool box, TruxSeal tailgate seals, B-light truck bed lighting system and Pro-Tex vinyl protective spray, will also be added to AccessorizeYourVehicle.com. All TruXedo tonneau covers carry a lifetime warranty.
AccessorizeYourVehicle.com is also in the process of adding the Agri-Cover Smart Truck Accessories. These accessories include cargo solutions such as Adarac rack system and bed pockets as well as bed protection products such as bed mats and tailgate protectors.
TruXedo and Agri-Cover products are made in the USA. Like AccessorizeYourVehicle.com, both companies provide fast order turnaround and top-notch customer service.
About http://www.AccessorizeYourVehicle.com:
For almost a decade AccessorizeYourVehicle.com has been providing affordable, high-quality accessories for cars, trucks, boats, and ATVs. It offers everything from seat covers to floor mats to anti-theft devices. To find out what AccessorizeYourVehicle.com can do for you, visit http://www.AccessorizeYourVehicle.com.