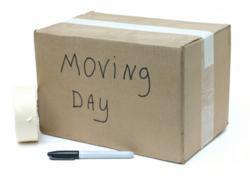 Los Angeles, CA (PRWEB) February 27, 2013
Moving has a myth's surrounding it that paints it in a negative light. Many would cringe at the thought and some would claim they would rather give birth than go through a relocation. This reaction is quite extreme because finding a moving company does not have to be that bad because all it requires is a little bit of predictive thinking and elbow grease. To help anyone suffering from the moving blues, we have compiled a short list of five important steps to take to ensure that any move is hassle and worry free.
The first thing you want to consider when moving is what are the items that you are actually going to be taking with you. This is important because it is likely that some items can be disposed of to make the moving load lighter. Things like perishable food items should, for the most part, definitely be consumed prior to the move, but there are other ways to get rid of items. Old clothing and furniture, miscellaneous items in the garage, and anything that you will not be using in general can be disposed of. Some ways of doing this are donating to Goodwill or having a garage sale. Large items that you cannot transport yourself can be disposed of by contacting your city's waste disposal services and setting the items outside your property.
The second thing to consider is how you are going to be moving. There are several options, one of the most popular being to hire a professional moving company. If you are going to go this route, make sure that the company that you hire is an accredited and insured moving company. This will help protect you in case anything goes wrong and provide peace of mind because you will be having professionals moving your belongings. Another way to move is to do everything yourself with the help of friends and family by renting a truck. This might have the benefit of being less costly in monetary value, but make sure to consider your own and your friends' time and labor cost as well. At the very least, treat your friends to some pizza and refreshments after a hard day of work. These considerations might also change depending on whether you are moving long distance or not. If you are, then there will be a much heavier time cost if you drive the truck yourself.
The third thing to think about is packing. Packing effectively and quickly has been considered somewhat of a talent amongst movers. The first thing to consider is whether you will be doing the packing yourself, or whether you will hire a moving company that offers packing services. The better moving companies offer a quick packing service and can get you packed on the day of the move or even a few days in advance. The benefit in doing this is that it is quick and easy which reduces the stress you have to undergo. If they are a good company, their work will also be insured so you can be at ease knowing your items will be relocated safely. The flip side of the coin is that if you do it yourself, you will not have those guarantees, especially if you are not very good at packing. You will need to take extra care of everything if you do it on your own, but it will definitely be cheaper. However you choose to do the packing, make sure to do it in an intelligent way. Pack things that you will need right away, like hygiene items, in separate boxes and don't stash them too far away.
The fourth thing on this moving checklist is preparing the new location for move in. The most obvious action to take is to clean the place you are moving to. Nobody want to move into a place that is dirty, plus it is much easier to clean when it is empty. Things like renovations and updates to the living space fall under this category, but they should be taken care of a bit earlier in the moving process. Another thing that many might not think of is notifying others of your change of address. Whether you are a business or a private home, magazine subscriptions and bank statements are better if received at the correct location. A courteous or sometimes necessary gesture is to notify others in your area that there will be a moving truck taking up parking space on the date of the move. This jumps over a more salient point in that you need to make sure there is available parking, and that the trucks will have easy access to the property. If they do not, there will need to be additional arrangements made to make the move possible, but a possible idea is the use of large moving carts to wheel items to and from the truck. Arranging the parking situation may include getting parking permits in some areas. Contact the city offices to make sure, and avoid an unpleasant ticket.
The final step involves the actual move. Make sure to clear your schedule for moving day and get friends involved, even if it is for moral support. Keep pets and small children where they will not interfere with the moving process or get injured. The last tip is to be mentally prepared. If you know what you are doing ahead of time and follow these steps, the move will be a huge success.