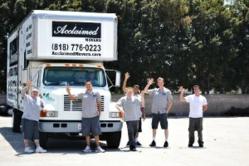 Los Angeles, CA (PRWEB) December 08, 2012
Acclaimed Movers and Storage, Los Angeles' leading, luxury moving company, has just instilled an innovative new training program for all employees. The program, which combines unique video segments with hands-on learning, is the most effective teaching tool the company has ever had. After going through the program, each Acclaimed mover is an expert on packing techniques, and can properly wrap, secure, and move any item. Now, the company has the best training methods and professional movers in Los Angeles. This comes on the heels of some major improvements and additions for Acclaimed, as they work to maintain their position as the premier moving company for the city.
For years, Acclaimed has performed residential and commercial relocations throughout Los Angeles, as well as, across the nation and around the globe. As a fully comprehensive, full-service company, they assist people through every step of the moving process. This includes planning and packing, and their packing services ensures the safe transportation of belongings, while at the same time strengthening boxes. Each Acclaimed mover goes through their intense new program, guaranteeing that belongings are packed and moved properly. Moreover, Acclaimed has a fleet of top-of-the-line trucks equipped with GPS, and uses only industry leading packing materials for maximum protection. When storage is required, they have a colossal, secure, storage facility; featuring 24/7 video surveillance and a state-of-the-art climate-control system that protects belongings from all outside elements.
Acclaimed Movers and Storage is dedicated to developing lasting relationships with each person they help. Their goal is to define professionalism and reliability in the moving industry, while providing the most comprehensive and affordable moving services in Los Angeles. As the local moving market evolves, so does Acclaimed, doing everything they can to meet and exceed the moving needs of the city. When it's time to move a home or office into, or out of, Los Angeles, visit http://www.acclaimedmovers.com, or call (888) 668-3703 for a free, no-obligation quote. Acclaimed Movers and Storage, we'll get you moving.