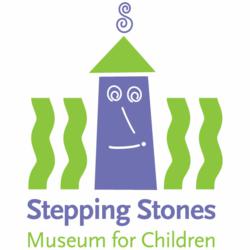 Play is a-MAY-zing!
(PRWEB) April 29, 2013
Around The World
Stepping Stones Museum for Children takes children and parents to different countries around the globe, bringing the culture and its people to life. Now in its fourth year, the Around the World Performance Series presents professional artists, musicians, dancers, storytellers and youth performers representing a variety of cultures and traditions. The May destination is Uganda.
Saturday, May 4 – 2:00 pm
Creative Kids – Learn about Uganda, an East African country with an abundance of wildlife and beautiful scenery. Make a forest scene featuring a gorilla. Ticketed Admittance on a first-come, first-served basis. Free with museum admission.
Saturday, May 11 – 2:00 pm
Abantu Mu Buntu – Children's Music Troupe – The young performers' colorful costumes, beautiful voices and vibrant dancing transport audiences to their traditional homelands of Uganda, a land rich in culture and spirit. Seating is limited, on a first-come, first-served basis.
Step Out Wine and Food Tasting
Saturday, May 18 7:00 – 9:30pm
Step out for a good cause with Stepping Stones at their 8th annual Step Out fundraiser that blends wine, microbrews, spirits, food and a taste of Americana. Attendees can mix and mingle under the giant open-air tent of the Stepping Stones Celebration Courtyard as they celebrate the best elements of classic Americana.
Adults can enjoy a night at the Stepping Stones Museum for Children as they sample fine wines from vineyards across the country along with American-style cuisine, spirits and microbrews. Step Out is hosted in partnership with the Young Professionals Network of the Business Council of Fairfield County and supports the museum's award-winning exhibits, educational programs and outreach initiatives.
Wine, beer and spirits will be provided by Nicholas Roberts Fine Wines in Darien and appetizers, hors d'oeurves and other tasty treats will be donated by Fairfield County restaurants including California Pizza Kitchen, Kona Grill, Shake Shack and more. Media sponsor Moffly Media is providing important support. Step Out is an event just for the adults.
New Traveling Exhibit – Dinosaur Revolution: Live Large
Debuts Saturday, May 25
Uncover fossils and facts about dinosaurs while navigating a giant maze. Live large in reptilian role-play activities; undertake three Mesozoic Missions spanning 150 million years and mimic dinosaur behavior. Become a junior paleontologist and find evidence of dinosaur doings; learn why dinosaurs are one of the most successful survivors in Earth's history. Dinosaur Revolution was created by Minotaur Mazes.
Traveling exhibits presented locally by Xerox Foundation.
Early Childhood Learning: Captivating Classes Open House
Thursday, May 2, Wednesday, June 5 and Friday, June 7
10:30 am – noon
At the Captivating Classes Open House, attendees are able to see what the Stepping Stones Early Childhood Classes are all about.
Stepping Stones understands the important role of play in developing and nurturing a child's love of lifelong learning. The play-filled early childhood classes encourage creativity, exploration and discovery with an amazing array of hands-on activities. While children will have a ball, they will also develop valuable motor, cognitive, language and social skills. Classes also help children prepare for school. Stepping Stones invites everyone to explore the activities from each of the classes at this Open House.
The next four or eight-week spring session of classes begin the week of May 6, and the summer session starts June 10. Class members are encouraged to explore the museum galleries before or after class at no additional charge. Let their imaginations soar. Learn more about Early Childhood Learning Classes.
BooZoo's™ Canine Carnival
Saturday, June8
10:00 am – 5:00 pm
Stepping Stones is hosting Boozoo's Canine Carnival, where play and learning go hand-in-paw.
Attendees can explore the powerful and important bonds between humans and their animal friends. Many activities are planned including a Crazy Canine Contest reviewed by a panel of judges. Activities include carnival games for families and doggies, face painting, a Mutt-i-grees® class, meet-and-greet with BooZoo, a dog wash and a crazy canine contest at 11:30 am. with a variety of categories.
Throughout the event, the mobile unit of the North Shore Animal Leagu, the world's largest no-kill animal rescue and adoption organization, will be on hand wih staff members available to answer questions and showcase some of their adoptable friends.
BooZoo supports early childhood development, skill building through learning adventures, intergenerational learning between children, their parents and caregivers, as well as helping parents and caregivers to be facilitators of their children's learning through play and inquiry.
The event is free with museum admission. Dogs must be licensed and accompanied by people who are 15 years or older. Owners are responsible for cleaning up after their dogs.
For more information on these events, or others at Stepping Stones, please visit http://www.steppingstonesmuseum.org.
About the company:
Stepping Stones Museum for Children in Norwalk, Connecticut, is an award-winning, private, non-profit 501(c)(3) children's museum committed to broadening and enriching the lives of children and families. Located on five acres in Mathews Park, the LEED Gold certified museum encompasses five hands-on galleries, state-of-the-art Multimedia Gallery, Family and Teacher Resource Center, cafe and retail store. Stepping Stones provides a wide variety of fun family activities, activities for children, performances, and programs for meaningful learning experiences. For more information, please visit their website at: http://www.steppingstonesmuseum.org