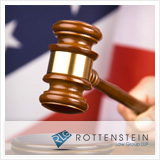 One disregarded verdict does not make a trend.
(PRWEB) May 02, 2013
On May 1 a Los Angeles Superior Court judge nullified a $6.5 million verdict in the nation's first Actos trial.* About a week prior a jury had recommended awarding plaintiff Jack Cooper the damages. The Rottenstein Law Group, which represents clients in Actos bladder cancer lawsuits, encourages those looking to file lawsuits to not be disheartened by the ruling.
According to a May 1 Bloomberg article, Judge Kenneth Freeman made his decision after Takeda Pharmaceuticals persuaded him that Cooper, 79, had not provided legally sufficient evidence that use of the diabetes drug for four years had caused him cancer.
"It is important to remember that this is only one trial," said Rochelle Rottenstein, principal of the Rottenstein Law Group. "One disregarded verdict does not make a trend."
Cooper's lawyer had persuaded the jury that Takeda had not provided adequate warnings about the risk of bladder cancer caused by using Actos, according to court documents for Cooper v. Takeda Pharmaceuticals America Inc.; CGC-12-518535, California Superior Court, Los Angeles.
Cooper's suit was the first of 3,000 cases to go to trial against Takeda for injuries allegedly caused by Actos. A large number of those cases are pending in the U.S. District Court for the Western District of Louisiana, where more than 1,200 of them have been consolidated into a multidistrict litigation (MDL No. 2299). Takeda recently won approval for a new diabetes drug, Nesina, which was designed to replace Actos, for which the company lost its patent in 2011, according to Bloomberg.
The Rottenstein Law Group maintains an Actos lawsuits page on its website, which provides additional information about the drug and how to contact an Actos attorney to learn more about filing a lawsuit.
*bloomberg.com/news/2013-05-01/takeda-gets-6-5-million-diabetes-drug-verdict-thrown-out.html
About THE ROTTENSTEIN LAW GROUP
The Rottenstein Law Group is a New York-based firm that represents clients nationwide in mass tort actions. The firm was founded by Rochelle Rottenstein, who has more than two decades of experience as a lawyer, to represent clients hurt by defective medical devices and medications. (Attorney advertising. Prior results do not guarantee a similar outcome.)
Contact:
The Rottenstein Law Group, LLP
Rochelle Rottenstein, Esq.
321 W. 44th Street
# 804
New York NY 10036
(212) 933-9500 (office phone)
(212) 933-9980 (facsimile)
rochelle (at) rotlaw (dot) com
###