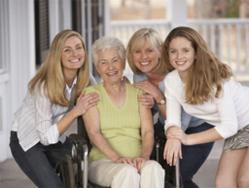 San Francisco, CA (PRWEB) May 08, 2013
Celebrate Mother's Day by giving the gift of adaptive clothing. Simple Closures has fashionable solutions for gift giving to moms who experience difficulty with dressing.
Adaptive Clothing by Simple Closures is designed to make dressing and undressing easier for those who are physically or mentally challenged and their caregivers who assist them with dressing. Adaptive clothing with its hidden features can help to decrease the time and stress involved without compromising style.
Simple Closures' clothing is designed specifically with both wearer and caregiver in mind. The owners are both registered nurses with many years of caregiving experience. Their expertise makes their clothing stand out for comfort, quality and thoughtfully placed adaptive features.
The Simple Closure line of back closing tops is just one example of how the twisting and turning required, when putting on or taking off a blouse or shirt, is eliminated. Shirts can be slid into easily and fastened in the back while giving the appearance of being a conventional pullover or front opening top. The versatility of their product line offers options for front-closing tops for those with limited fine motor movement – which may be helpful for those with arthritis or painful joints. Customers will find these well-thought-out adaptations on all items in the Simple Closures store.
Visit http://www.simpleclosures.com for additional details of how the adaptive features can work for caregivers and their loved ones.
At Simple Closures, they believe that if one looks good, one feels good. With that in mind, they have designed easy-access clothes to fit a diverse set of needs without compromising style, quality or fashion assisting wearers and caregivers alike.
About the company:
Simple Closures is owned and operated by two registered nurses, Lynn and Melissa, who share a passion to help women overcome their difficulty with dressing. Simple Closures offers a fashionable line of disabled clothing, adaptive clothing, elderly clothing or any type of fashionable clothing for the physically challenged. Simple Closures promotes comfort, quality and thoughtfully placed adaptive features to fit the special needs of their customers to make them feel special in their creative, tasteful styles and patterns.