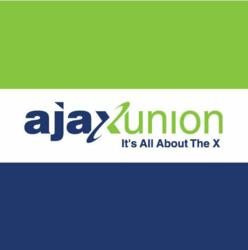 As a leading SEO company in New York, Ajax Union is committed to walking companies through the marketing world.
New York, NY (PRWEB) April 30, 2013
Ajax Union, a New York online marketing agency, is offering special rate tickets for business owners, executives, and marketers interested in attending the upcoming Innovative B2B Marketing Strategies seminar and workshop. Hosted at the New York Hotel in New York City on May 7, 2013, the event will include two presentations by the company's co-founders, as well as the opportunity for open networking at the end of the event. Available online at http://www.AjaxUnion.com, the online marketing company's event will highlight ways businesses can create and implement successful strategies to enhance B2B business endeavors.
"Many companies believe that simply having a website and a blog is enough to get their business noticed on the Internet. With more and more businesses realizing the importance of a comprehensive online marketing strategy, some companies are scrambling to learn the basics, while their more visionary counterparts are advancing through the Internet ranks through effective social media campaigns, well-planned use of Google Analytics, and email marketing. As a leading SEO company in New York, Ajax Union is committed to walking companies through the marketing world. Getting started is as simple as attending our seminar, learning the basics, and realizing your company's full potential online," said Ajax Union's CEO Joe Apfelbaum.
More and more, consumers in need of a product or service turn to online research through search engines, review sites, and even social media outlets as the determining factor before making a purchase. Successful businesses have taken notice and have designed Internet marketing strategies to put company's online and in front of users.
At the upcoming seminar, Ajax Union's CEO Joe Apfelbaum and President Zevi Friedman will explain the latest marketing strategies businesses should be taking advantage of and utilizing. For purchasing tickets now, Ajax Union is offering a 30 percent discount on final ticket sales. To purchase tickets online using the discount code "FinalPR30," visit http://ajaxb2bmarketing-PR.eventbrite.com between now and May 7, 2013.
The seminar will be held on the evening of May 7, 2013, from 6 p.m. until 9 p.m. at the New Yorker Hotel, located at 481 Eighth Avenue, New York, NY 1001. To learn more about Ajax Union's array of online marketing solutions for businesses of all sizes, visit the company online. The agency can also be found posting marketing updates online on Facebook, Twitter, and Google+.