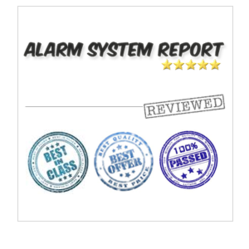 Choosing the best home security system can be a daunting task and is important, so we review the best ones in each state.
New Orleans, LA (PRWEB) November 16, 2012
AlarmSystemReport.com's ranking team has waded through all of the relevant social media sites and all of the expert's unbiased reviews and has completed their Louisiana home security company rankings. These rankings have been organized and can be found on AlarmSystemReport.com's top Louisiana home security company reviews section.
The Ranking Process
AlarmSystemReport.com's review process starts with AlarmSystemReport.com creating a list of home security companies in each state that meet the website's strict minimum requirements. Some companies that made the list in Louisiana were FrontPoint Security, BroadView Home Security, LifeShield, and Vivint. Many more made the list as well, but you'll have to visit AlarmSystemReport.com to read more about them.
Once this list is made, AlarmSystemReport.com gives it to independent home security experts who live in the state that is being evaluated. The experts are told to review each company in a wide variety of categories. These categories are the most vital areas that every home security company should excel in and are the backbone of AlarmSystemReport.com's home security company reviews.
The experts rate each company in each vital area with a score of one to five. A rating of five is the best and a rating of one is the worst. All of the Louisiana home security companies scored at least a three in all of the key areas. This being said, some companies did better than other companies did. Vivint Security did very well in the technology category whereas FrontPoint Security did very well in all categories. To read more about these particular companies, you can check out the FrontPoint Security review and the Vivint review on AlarmSystemReport.com.
While the experts created their ratings, the ranking team at AlarmSystemReport.com looked through social websites like Yelp and Angie's List. They looked for feedback on each company and searched for trends in what the reviewers were saying. For instance, a company that had fifty reviews with all of them saying that the company has bad customer service was worth looking into. However, one random review saying a company had bad customer service with forty-nine saying they had good customer service was quickly thrown out.
After this was done, the ranking team crossed the social ratings with the expert's ratings to create a ranked list of all of the best Louisiana home security companies. Alarm System Report made sure to do this for both the general categories as well as the more specific categories. This means that people searching for DIY alarm systems in Louisiana will be just as satisfied with AlarmSystemReport.com as people looking for cellular monitored alarm systems.
To read AlarmSystemReport.com's Louisiana home security system reviews, please visit their website.