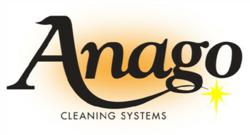 Pompano Beach, FL (PRWEB) June 11, 2013
Anago Cleaning Systems (Anago), a leading commercial cleaning franchise with more than 2,400 locations throughout the U.S. and internationally, announced it will offer a $5,000 discount off its Master Franchise fee when qualified individuals complete a franchise application starting Monday, June 10 through Father's Day, and into the following week, ending on Sunday, June 23. Total franchise fees within the Anago system are typically $39,000, but the discount is offered for any new franchise territory. This offer can't be combined with any additional discount.
Celebrating this special time of year with dads nationwide, Anago is offering the discount to encourage relationship growth between fathers and their children, especially within a professional setting. With family-run businesses opening up more across the country, Anago's discount demonstrates the commercial cleaning company's confidence in the family-team pairing and how it works extremely well within its industry.
Exemplifying this trend are Anago Master Franchisees David and Bill Ross, who are a father and son team managing Anago of Western Pennsylvania, and have been working together since 2006. David first started with Anago in September 2004. Together, they support more than 65 Unit Franchises in the greater Pittsburgh market and are looking to add another 20 Unit Franchises by the end of 2013.
Knowing his father had held extensive executive level and consulting positions with Fortune 500 companies, Bill knew that with his own career experience in sales, marketing, and broadcasting, they had the combined experience needed to team up in a business. As Bill says, there is no better person he would rather venture into the business world with than his father.
"At Anago, we put Master Franchisees in the best position possible to succeed and sometimes it works best when a family element is the business dynamic," said David Povlitz, Chairman at Anago Cleaning Systems, Inc. "I can speak from first-hand experience, as my son, Adam, now plays a growing role on the Executive Team of the company, responsible for operations, Master training, and management of vendor relationships. Through the years, it's been a pleasure to see him develop into a leader within the business and I could not be prouder of his accomplishments."
Adam Povlitz joined Anago in 2009 as a Franchise Developer. Prior to taking on this role, Povlitz was at IBM Corporation as the Growth Initiatives & Expense Analyst for IBM North America Sales & Distribution in Somers, N.Y. In January 2013, he was appointed Executive Vice President, who through his hard work and dedication, is now carrying out Executive Team duties for his father David to take the brand into the next chapters of their company history.
"Father's Day is a time to celebrate all dads in the country, but we know that some would love nothing more than to be able to help their kids with a viable career," said Judy Walker, Vice President of Marketing at Anago, whose daughter Carla Powers also works at the company as Director of Master City Support. "Especially in an industry that is strongly resilient such as commercial cleaning, we are confident Anago can be a lucrative option for any father-son, father-daughter or in-laws situation because the Master and Unit system allows for collaboration and growth."
As an Anago Master Franchise Owner, individuals act as the Regional Franchise Owner with exclusive rights to the Anago system in their territory allowing them to sell, coach, and support Unit Franchise Owners in their region using Anago's concepts and methods. Unit Franchise Owners operate distinct businesses within their territories and perform day-to-day operations.
Anago added 188 new Unit Franchisees at the close of 2012, and at the end of the first quarter of 2013, the company enjoyed its highest sales growth quarter in company history. This success ensures Anago is poised for more expansion in 2013, proving the franchise brand is an ideal investment prospect for entrepreneurs and prospective Franchisees. To inquire about franchising, visit http://www.AnagoMasters.com.
ABOUT ANAGO
Anago Cleaning Systems is a commercial cleaning franchise system supporting over 30 Master Franchises and 2,400 individual Franchisees in the U.S. and internationally. After years of refining procedures and creating duplicable systems created in his large commercial cleaning service, David Povlitz founded Anago in 1989 to help other entrepreneurs open their cleaning businesses. Today, its program sets the standard in U.S. commercial cleaning. Anago was ranked the 10th fastest-growing franchise and #39 on the Franchise 500 by Entrepreneur magazine in 2013, and ranked by Franchise Business Review as one of the best franchises in Franchisee satisfaction. Inc. Magazine has also listed Anago as one of the top privately-held companies in the U.S. For further information, visit its website or http://www.AnagoMasters.com.