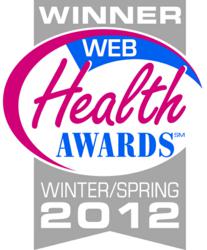 "Winning entry chosen from nearly 600 entries"
Chicago, IL (PRWEB) June 13, 2012
Analyte Health, Inc. announced today that it was selected as a winner in the 14th annual Web Health Awards(SM) program. This competition — held twice each year: Winter/Spring and Summer/Fall — recognizes the nation's best digital health resources. Analyte Health received a Bronze Award for it's website, SexualHealth.com in the category of Physician/Clinician Portal Website.
"We are delighted to participate in the 2012 Web Health Awards competition, and are honored to be selected as a winner," said Tony Priore, Chief Marketing Officer for Analyte Health. "Our winning entry was chosen from nearly 600 entries judged by a panel of distinguished experts in digital health media."
Analyte Health operates SexualHealth.com, which is aimed at the market need for testing, treatment, and counseling of individuals at risk for sexually transmitted diseases (STD). SexualHealth.com offers these individuals access via the web, mobile devices and phone to a national team of dedicated doctors, nurses and sexual health experts. To-date, Analyte Health has delivered stress-free, convenient STD testing and care to more than 70,000 patients.
ABOUT THE WEB HEALTH AWARDS(SM)
The Web Health Awards(SM) program is organized by the Health Information Resource Center(SM) (HIRC), a national clearinghouse for professionals who work in consumer health fields. Other well-known HIRC programs included the 19th annual National Health Information Awards (SM), (http://www.healthawards.com) which annually recognizes the nation's best consumer health programs and materials (for non-digital resources), and two national "Fitness Day" events: The 11th annual National Women's Health & Fitness Day® and the 16th annual Family Health & Fitness Day USA®.
ABOUT ANALYTE HEALTH, INC.
Analyte Health, Inc. is an innovative healthcare company that uses technology to help people gain greater access to patient care and expert medical information. While focusing on specific medical conditions, we deliver specialty care, counseling and convenience not available in a traditional primary care setting. The company's mission is to use technology to transform medicine for the benefit of patients by delivering a truly exceptional patient experience for everyone every day. The company was founded in 2007 and is based in Chicago, Illinois.