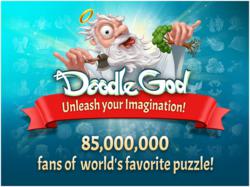 The new user interface and in-game graphics look absolutely stunning on both tablets and handheld devices alike.
Cupertino, CA (PRWEB) May 09, 2013
JoyBits LTD, a leading publisher and developer of interactive entertainment today announced that the element-combining puzzle title, Doodle God™ Version 2.0, is now available on the iPhone and iPad via the Apple App Store.
Doodle God™, the award-winning element-combining puzzle game from the creative minds at JoyBits, provides players with hundreds of elements to mix, match, and combine, to create a world of their own. And with Doodle God™ Version 2.0, the addition of new features, game play modes and a tighter, cleaner user interface will provide imaginative players with even more countless hours of puzzle-solving delight.
"The entire team is excited to bring Doodle God to the iPad for the first time," said JoyBits founder, Anton Rybakov. "The new user interface and in-game graphics look absolutely stunning on both tablets and handheld devices alike. We have listened to our fans, and for Doodle God Version 2.0 have added new Puzzles, Quests, and created an entirely new 'Artifact Mode' that allows players solve ancient mysteries like the one surrounding the Lock Ness Monster, and more."
In this addictive, all-ages puzzle game, players mix and match different combinations of fire, earth, wind, and air to create an entire universe! Of course the universe was not created in a single day, so players will have to work their way up from a simple microorganism to create animals, tools, storms, and even build armies before they will have what it takes to create an entire universe! But beware, power of this magnitude may have unforeseen consequences; inventing the wheel might just trigger a zombie plague! Players needn't worry though, for they are not alone on this cosmic journey; every time they successfully create a new item they will be rewarded with the wit and wisdom of some of the greatest philosophers and comedians of all time!
New Features for Doodle God™ Version 2.0:
Just about everything! New languages, new puzzles, new graphics, and more!
> Now available in 13 languages: English, Dutch, French, Spain, Italian, Russian, Japanese, Chinese, Korean, Portuguese, Swedish, Polish & German
> NEW HD retina display graphics
> NEW user interface and in-game graphics
> NEW Puzzle Mode: Create locomotives, sky scrappers, and more
> NEW Quests Mode: Can you save the Princess or escape a Desert Island?
> NEW 20th Century Greatest Inventions: Assist inventors across every decade of the 20th century
> NEW artifacts: Obtain special collectible artifacts created by amazing triple reactions
> NEW reactions with existing elements and episodes
> NEW achievements
> NEW Elements Encyclopedia with Wikipedia links
> Improved mini-games for arcade fans
The power of creation is in your hands! Go forth, and unleash your inner god with Doodle God™!
For more information on Doodle God™ Version 2.0, please visit the official site at http://www.doodlegod.com.
Doodle God™ is available now in the App Store:
iPhone Version
https://itunes.apple.com/app/doodle-god/id376374689
iPad Version
https://itunes.apple.com/app/doodle-god-hd/id577436947
Follow JoyBits to get early access to exclusive content, price drops and updates:
LIKE: http://www.facebook.com/doodlegod
FOLLOW: http://www.twitter.com/doodlegod
Check out JoyBits other exciting games! Doodle Devil™ & Doodle Farm™
For Press Inquiries please contact us at:
Press(at)joybits(dot)org
About JoyBits LTD
With over 85 million downloads since its launch in July 2010 & early 2011, the award-winning 'Doodle' series of apps including: Doodle God, Doodle Devil and Doodle Farm, have become one of the world's most beloved puzzle franchises for gamers of all ages. Combining classic mix-and-match game play with clever world building mechanics, the Doodle series puts the power of creation in gamer's hands. The Doodle series of apps are some of the highest rated apps available today, and combined, have tallied over 600 years of game play enjoyed by fans in over 100 countries. The Doodle series is available for iOS and Android devices, in addition to Windows phones, Windows8, BlackBerry10 and numerous other platforms. JoyBits is headquartered in London, England with offices in San Francisco, California and Saint Petersburg, Russia.
Doodle God™, Doodle Devil™ and Doodle Farm™ are registered trademarks of JoyBits LTD. Used under license from JoyBits LTD.