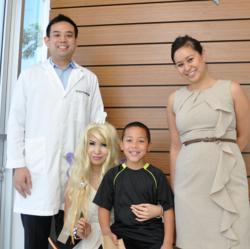 The staff at Smile Innovations strongly encourage parents to take their children to the dentist regularly
Tempe, Arizona (PRWEB) January 31, 2013
The Tempe based, cosmetic and family dentistry, Smile Innovations, now offer WaterLase technology as a way to calm and ease children's nerves while visiting the dentist. Dr. Boyd Patummus, DMD and Dr. Linda Ma, DMD believe that dental education at a young age is critical for overall healthy teeth and gums. They also understand that a child's first visit can be frightening, especially when they hear dental drills and other "scary dental noises." The WaterLase laser now eliminates the need for drills and shots and helps a child to relax while visiting the dentist. According to WaterLase.com, "This new technology uses a laser wavelength with water/air spray which cuts, etches and shapes target tissue without contact, heat, vibration or pressure. So many procedures with WaterLase are done painlessly and with no anesthetic."
The staff at Smile Innovations strongly encourage parents to take their children to the dentist regularly, beginning with the first erupted tooth. Choosing the right pediatric dentist is extremely important and the staff at Smile Innovations prepare each child in a secure and safe environment. The staff will recommend a program that will educate each patient to develop healthy dental habits on a one to one level. The staff also provides important knowledge for your child, so they grow up cavity free, decreasing the expenses for dental health.
Smile Innovations strives to provide top of the line services and technology to ensure the least painful and the most comfortable dental experience. Dr. Boyd Patummus, DMD and Dr. Linda Ma, DMD are committed to offer the best in dental treatments and to provide a positive and relaxed environment for younger clients to feel safe and secure.
For more information on pediatric dental services and Smile Innovations visit, http://www.smileinnovation.com or call 480.820.7777.