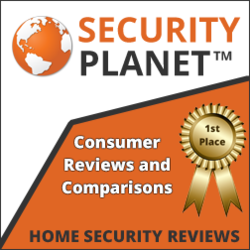 View the 2013 Top Home Security System Companies in Arkansas online at SecurityPlanet.com.
Little Rock, AR (PRWEB) April 11, 2013
SecurityPlanet.com has informed thousands of buyers on what to consider when selecting a home security monitoring company. Homeowners who are interested in a home security system can compare the options and services of the nation's best security system providers online at SecurityPlanet.com. SecurityPlanet.com just recently finished performing their evaluations of the top rated home security system providers in the state of Arkansas. On a yearly basis SecurityPlanet.com travels nationwide to perform in-depth reviews and analysis of the top security system companies in each state. Each and every home security system company is ranked on numerous areas including monitoring, pricing and technology to name a few.
Arkansas is home to more than 2.9 million residents. There are in excess of 110,000 property crimes every year according to the latest FBI statistics. Arkansas consumers comprehend the importance of home security and safety and now have an independent resource to refer to when searching for a home security system. Response time and dependability are essential aspects to Arkansas consumers who were in the market for a home security system.
Gavin Anders from SecurityPlanet.com states, "The SecurityPlanet.com staff discovered that Arkansas residents we're interested in selecting a home security provider that also provides fire and carbon monoxide monitoring. Carbon monoxide is a silent but dangerous gas that should not go undetected. All of the top rated security providers ranked on SecurityPlanet.com offer monitoring for carbon monoxide and fire."
FrontPoint Security is the top home security system company in the state of Arkansas as reported by SecurityPlanet.com. FrontPoint Security is recognized for providing their customers with remarkable customer service and maintaining a great rating on the Better Business Bureau. Continuing to keep customer service and satisfaction at the top of their priority list is making FrontPoint Security the top pick among consumers. Close to FrontPoint Security, the two other top home security companies are Protect America and ADT Security. Protect America has delivered a tremendous level of value to the home security system market by offering free upfront equipment. ADT Security has over 6 million customers across the country, maintains a fantastic Better Business Bureau rating and offers their customers professionally installed home security systems.
SecurityPlanet.com discovered that Arkansas homeowners were excited about the mobile features that the top security companies provide. FrontPoint Security offers their customers with the capability to remotely arm and disarm the home security system in addition to set up the security system to send text message notifications when events occur in the home. Furthermore, wireless home security cameras present features for customers to remotely stream video directly to an iPhone or Android device. Arkansas consumers can compare the features of the leading home security providers online at:
SecurityPlanet – Home Security Systems Reviews
About SecurityPlanet.com
SecurityPlanet.com is the leading home security systems reviews providers that targets providing the most up to date and relevant information to buyers that are thinking about investing in a home security system. SecurityPlanet.com provides comparisons in an easy to use format so shoppers can easily get the facts they are looking for. Consumers will find helpful articles and tips on the SecurityPlanet.com home security blog to enable them to lead a safer and more secure lifestyle. Visit SecurityPlanet.com for more information on the leading home security system providers.