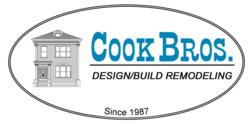 At Cook Bros, those selling the jobs and making the commitments follow the jobs all the way through to completion.
Arlington, VA (PRWEB) October 08, 2012
Cook Bros. Design/Build remodeling was recently recognized in the Remodeling Magazine Big 50 Class of 2012. In business for 25 years, the family-owned home improvement company was recognized for displaying industry leadership as a 'market wise' organization. Remodeling Magazine profiled Cook Bros. in their May 2012 issue, and presented the Big 50 Award to company President Steven Tinter at the Remodeling Leadership Conference in Baltimore on May 11.
How did Cook Bros. stand out? By 'specializing' in and committing to the Arlington community.
While the norm in the remodeling industry is for a contractor to operate in a large area, 'cherry-picking' the largest projects possible, Cook Bros. has operated exclusively in Arlington County and adjacent neighborhoods since its beginning in 1987. Cook Bros. grew as an Arlington remodeler over the years by taking on projects of any variety, from small handyman jobs or bathroom projects up to large additions and whole-house remodels. While other contractors chose to be 'Beltway warriors' who would drive 100 miles in a day to build two or three large projects at a time, Cook Bros would coordinate as many as a dozen small, mid-size and large projects all within Arlington's small-town radius.
By remaining committed to a single market or town, the firm built a high level of recognition and a positive reputation among Arlington citizens. With job sites all in the Arlington community, Cook Bros. has maintained an ever-present fleet of branded white company vehicles and distinctive job signs. Cook Bros. also built recognition in Arlington with its 'face to face' marketing vision. Most new projects have come from word of mouth referrals, but the company is also one of the longest running participants in the Arlington County Fair each summer, shaking hands and talking to Arlington homeowners about their own household's goals. As a result, Cook Bros. has filed for more building permits than any other remodeler in Arlington, VA since 2001 (beginning of online records).
The same 'face to face' approach has applied to Cook Bros' management style. Most remodeling contractors are hard for a homeowner to reach once construction begins, delegating project management, deliveries and customer meetings all to the carpenter on site. Some managers are really only seen after something goes wrong! In contrast, Cook Bros. prefers to give homeowners a consistent point of contact from the initial meeting to discuss project ideas all the way through the design process and construction. Company president Steven Tinter and lead designer Greg Ruth are closely in touch with Cook Bros. customers during the construction process to ensure that everything goes smoothly. "Those selling the jobs and making the commitments follow the jobs all the way through to completion," says Steven Tinter.
Cook Bros. offers free in-home remodeling consultations to Arlington homeowners by appointment. Homeowners considering a remodeling project are also welcome to review the Cook Bros. Remodeling Guide available here for valuable insight into beginning the process and selecting a contractor!