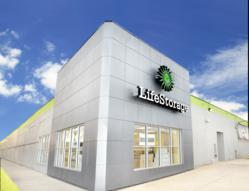 This is a great thing for the youth of our community
Chicago, IL (PRWEB) October 12, 2012
LifeStorage, Chicago self storage provider for home, business and office solutions, is hosting an Arts and Crafts Fair at its Hermosa location this coming Sunday, October 14th from 10am-3pm at its Hermosa location, 4500 W. Grand Avenue in Chicago. Local artists, craft makers, and LifeStorage tenants alike are encouraged to stop by and set up to display and sell their art. Interested parties should contact LifeStorage Hermosa as soon as possible as the event is quickly upon us.
LifeStorage Hermosa managers Store Managers Yecy Morquecho and Mario Alequin have been spreading the word, telling customers, passing out fliers, and even contacting some galleries as well. After some LifeStorage-Hermosa has some tenants that are also artists, and the idea spiraled from there. For Morquecho, this is the perfect opportunity to give the tenants, but also community members the chance to be seen, and to experience some of the local art.
"Our goal here is to make sure that everyone in the community understands that we're doing this to show all that we want to make a positive impact no matter where you come from. Anyone who is interested, we don't care if you're a beginner or a Master of the Arts: we want all of the artists that participate to express themselves at all levels," Morquecho said. "Hermosa is a working class neighborhood, but just because it is doesn't mean we don't have wonderful things to offer. I hope that this is seen as a positive way for us here at LifeStorage to give back to our community."
Morquecho also sees this as a way to reach the youth of the area: "I look forward to seeing everyone come and participate. This is a great thing for the youth of our community, too. It's a way to show them how to do something positive and be as creative as you like. The wonderful thing with art there really isn't a right or wrong, just an expression of the artist."
Please join us for a day of arts, crafts, and fun! For more information and those interesting in showcasing their arts or crafts, please contact LifeStorage-Hermosa at 773-235-8400.
To find the nearest LifeStorage location, or for more information about LifeStorage and its services, please visit: http://www.lifestorage.net/