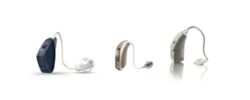 I went to The Atlanta Hearing Institute for a fitting. I was amazed, my name sounds different when my daughter says it over the phone! I was blown away.
Atlanta, GA (PRWEB) April 30, 2013
By using new technology and state of the art 'hearing and fitting' software, the Atlanta Hearing Institute can now program and adjust new hearing aids in Atlanta and implants to achieve a higher quality and broader range of audible frequencies for people with hearing loss. Audiologists at The Atlanta Hearing Institute are providing frequencies of sound to their patients that have never before been possible to achieve.
Hearing aid technology in the newest hearing aids have extended frequency bands within the software and can now communicate the spectrum of sound up to 8-10kHz; older hearing aids could not provide sound above 6kHz range. Better technology alone cannot match every person's unique situation because children's hearing loss and adults varies case by case. Therefore, it is first necessary to diagnose the intricacies of each case with a thorough hearing evaluation and hearing fitting with a certified specialist of hearing. Audiologists then program the hearing device based on a person's ability to hear more or less of any specific frequency.
New hearing aid technology has made higher frequencies possible, but a fitting procedure to utilize the new hearing aid frequencies was not available until recently. Researchers at the University of Cambridge developed the CAM2 method for fitting a hearing device, short for CAMEQ2-HF, to prescribe the amount of amplification to high-frequency sounds needed to make them audible to the patient. Based on the audiogram of the patient developed by the CAM2 method, fitting the new hearing devices to make use of the additional frequencies is possible.
According to The Economist article Music to the Ear, using new software to "calibrate a modern hearing aid, the result is greater intelligibility of speech compared with existing alternatives." It "also improves the experience of listening to music, which makes greater use of higher frequencies than speech does."
"At the Atlanta Hearing Institute we can match and increase a specific voice, an environmental sound, or adjust lower tones to be more complete. By using these frequency ranges that can extend to 10kHz, we allow the patient the freedom to describe how they prefer their hearing aid to sound, reducing frustration and poor understanding," says Anesheia Prince Au.D.
Patients have noticed the difference. "I thought I had done all I could getting a hearing aid, but I went to The Atlanta Hearing Institute for a fitting. I was amazed, my name sounds different when my daughter says it over the phone! I was blown away," said a recent patient of the Atlanta Hearing Institute.
Using new hearing aid devices and the new fitting software to add new frequencies, patients have found it much easier to understand the person they want to listen to even in a room filled with people, and better identify where a particular sound is coming from. Common problem sounds for hearing patients are "sh", "f" and "ch" because they are usually higher frequencies, but these sounds are essential in understanding the rest of the word.
About Atlanta Hearing Institute
At the Atlanta Hearing Institute you can expect a complete and thorough Atlanta hearing evaluation by a Doctor of Audiology. This is the first step in determining the technology you or your children need to maximize your individual communication abilities. Appropriate hearing technologies will be demonstrated to you in the office. We believe "hearing" the technology in action is important!
Choosing an Atlanta hearing specialist is an important decision but it doesn't have to be a difficult one. We are experts in the latest amplification technology including state of the art hearing aids and implantable devices such as BAHA and Cochlear implant hearing aids. We are also leading the way in introducing the newest surgically implantable hearing device, the Maxum. The Maxum hearing implant is an excellent option for those considering surgical hearing solutions beyond the traditional hearing aid. It is an FDA approved device for moderately severe to severe hearing loss since 2011.
For patients that experience "ringing of the ears" or other subjective sounds known as tinnitus, our facility is leading the way in Atlanta hearing treatment. Our new combination hearing aids infuse hearing aid technology with tinnitus management maskers for relief from ringing ears. This technology creates an environment where the tinnitus is reduced and controlled, while the hearing aid portion provides crisp and clear understanding.
Our hearing doctors continue to provide exceptional hearing treatment in Atlanta, and relief to Atlanta children with hearing loss. We are committed to providing the highest quality in hearing healthcare. We adhere to the best practice guidelines and code of ethics established by the American Academy of Audiology.
Your hearing specialists are always here to help:
Lindsay Lanson, Au.D., CCC-A
Jocelyn Sysko, Au.D., CCC-A
Anesheia Prince, Au.D., CCC-A
Doctors of Audiology, certified by the American Speech Language, Hearing Association and Fellows of the American Academy of Audiology.