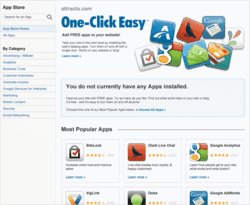 "We were able to improve our website traffic and sales with very little effort..."
Napa, CA (PRWEB) May 22, 2013
Attracta announced they have grown to over three million users of their website applications platform.
"The response to our suite of website enhancement services has been phenomenal." said Dave Koston, Attracta's CTO. "Over fifteen hundred hosting providers have partnered with us to provide easy-to-use website enhancements to their customers. The result has been more than three million website owners adopting our technology, with thousands more joining each day," Koston added. "But the real driving force behind our growth is the huge value this service provides to small business website owners." He concluded.
Attracta has developed a patent-pending cloud services distribution platform which allows millions of website owners to find and install website enhancements with a single click. These services include Attracta's flagship Search Engine Optimization (SEO) service, Google Analytics, Site Lock's Security Badge, Advertising, Social Networking, and many others. Their distribution platform proved so successful that it quickly made Attracta the world's most widely used SEO service.
Benefits to Web Hosts:
"We were looking for value-added services to add to our core hosting platform that would benefit all of our customers, and Attracta was the perfect fit," said Arvand Sabetian, CEO of Arvixe Hosting.
By Integrating Attracta's website services platform into their server infrastructure web hosts can deliver value-added services to their customers in minutes. Hosts increase their average revenue per customer by capturing a percentage of the revenue from paid cloud services, while also increasing the competitiveness of their core hosting business.
Benefits to Cloud Services Vendors:
"Attracta's worldwide platform distribution allows us to bring our website security services to millions of new customers, as well as offering them simple one click installation of our trust badge," said Tom Serani, Executive VP of Business Development at SiteLock.
Attracta's distributed web services platform makes it easy for cloud application vendors to showcase their services to millions of website owners through thousands of web hosts and web hosting resellers worldwide. This broad syndication of their service offerings, combined with One-Click Simple(TM) installation has made Attracta the most world's most widely adopted cloud services platform.
Benefits to Website Owners:
"Thanks to Attracta we were able to improve our website traffic and sales with very little effort on our part," said Anthony Casserino, owner of actionlockandsafe.com.
Sophisticated cloud applications are empowering websites with new improvements to visitor experience and ease of use. However over 65% of small businesses web sites who sign up for these services fail to install them due to technical difficulties.
Recent surveys show that 43 percent of small businesses will adopt cloud services in the next three years—and most SMBs will nearly double the number of cloud services they pay for.
About Attracta:
Founded in 2009 by a team of successful Internet entrepreneurs, Attracta develops innovative distribution technology for website services that helps small businesses build more success online. With over 3 million websites using its services, Attracta has quickly become the world's most popular website services distribution platform. The company's technology has been installed by over 1,500 web hosts who integrate Attracta's platform directly into their web hosting infrastructure. This deep integration into the web hosting infrastructure allows Attracta to distribute website services from a myriad of vendors to over 3 million websites with One-click Easy installation. For more information visit Attracta.com or call 888-317-3994.
###
Media contact: Eugene Kwon, Dir. of Business Development. Eugene(dot)Kwon(at)attracta(dot)com
860 Napa Valley Corporate Way, Suite R, Napa, CA 94559