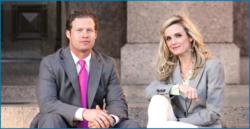 AUSTIN, TEXAS (PRWEB) April 08, 2013
Carroll Troberman Criminal Defense has opened a second office to serve clients in the San Marcos area.
Both of the Austin criminal defense attorneys at the firm will be available at the office for scheduled meetings with clients, but will work from the Austin office most of the time.
One of the firm's founding partners, Blair Carroll, practiced in Hays, Comal and Guadalupe counties for the last five years while handling criminal cases for The Kyle Law Firm and is very familiar with the courts in the San Marcos area.
"This move has allowed us to serve more clients in the Central Texas area," Carroll said. "My partner, Shelly, has extensive experience working within the Austin courts, and I've worked with the courts in the San Marcos area for years now. By opening this satellite office, we're able to be more convenient for our clients in the cities south of Austin."
Carroll is a member of the prestigious National College for DUI Defense and said he looks forward to defending the rights of more Texans accused of drunk driving through the firm's San Marcos office. To learn more about the attorneys at Carroll Troberman Criminal Defense, click here.
About Carroll Troberman Criminal Defense
Carroll Troberman Criminal Defense is the Austin, Texas criminal defense practice of attorneys Blair Carroll and Meredith "Shelly" Troberman. The firm's attorneys have successfully defended hundreds of criminal cases, ranging from assault to DWI cases. Carroll Troberman Criminal Defense accepts most criminal cases, including DWI, DUI, assault, murder, robbery, sex crimes, domestic violence, illegal possession of weapons, drug possession, hit and run and white collar crime charges. Blair Carroll is a member of the esteemed National College for DUI Defense and Meredith "Shelly" Troberman has devoted her entire career to criminal law, both as a defense attorney and as a district attorney.
###