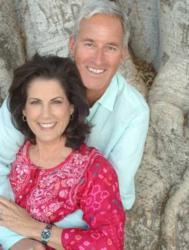 WabiSabiLove: Like two halves of a circle, each partner moves fluidly back and forth as in a dance.
Los Angeles, CA (PRWEB) February 22, 2013
Author Arielle Ford 'How to Save Your Relationship' Addressed in New Book 'WABI SABI LOVE'
Most people think that finding your soulmate is the hard part and that things will be easy after that, but staying in love with your soulmate takes hard work.
In it, Ford teaches readers how to find perfection in imperfection and to approach their relationship with a new perspective. She also offers valuable exercises and communication tools that will help readers gain a deeper appreciation for their partner and find themselves laughing together, instead of fighting. She also teaches readers how to shift their expectations, asserting that perfection is "pure fiction" and reminding readers that by expecting the best out of their partner, instead of expecting the worst, they will get the best.
Ford uses touching anecdotes of couples from all walks of life to illustrate the principles of 'Wabi Sabi Love' in action, from a "spiritual" yoga-practicing vegetarian who falls in love with a hunter, only to find out that he teaches her the most important spiritual lessons of all, to a widow whose eulogy describes "snoring" as one of the things she will miss most about her husband. By practicing "wabi sabi love", readers will learn how to truly enjoy the time that they spend with their partner and form a deeper bond that can't be severed by "the little things".
About Arielle Ford
Arielle Ford has spent the past 25 years living and promoting consciousness through all forms of media. She is one of the founding partners of the Spiritual Cinema Circle, a DVD club dedicated to providing movies about love and compassion. She is the author of seven books, including the Hot Chocolate for the Mystical Soul series and The Soulmate Secret: Manifest The Love of Your Life with The Law of Attraction. Ford lives in La Jolla, California, with her husband/ soulmate, Brian Hilliard, and their feline friends.
For more information, please visit arielleford.com
http://www.WABISABILOVE.COM
Follow Arielle Ford on Twitter @ArielleFord
"Like" Arielle Ford on Facebook at Facebook.com/SoulmateSecret
http://www.FACEBOOK.COM/ARIELLEFORDFANPAGE
For media inquiries or to request a review copy, please contact:
Melinda Mullin Melinda.mullin(at)harpercollins(dot)com