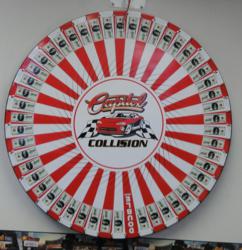 "The customers who have spun the wheel so far absolutely love it, and it's a lot of fun to watch them anticipate where the wheel will stop and how much they will win."
Phoenix, AZ (PRWEB) May 02, 2013
The program is pretty simple. Do the best job possible for the customer, make them love you and encourage them to refer anyone who needs auto body repair in Phoenix to Capitol Collision Repair. And of course, give customers an incentive for doing so.
The innovative part is Capitol Collision Repair incorporated a spin wheel, which has money denominations in the slots, and any customer who refers a repair job which is over the minimum amount of $1000 repair gets a chance to spin the wheel to win some cash. The highest amount on the wheel is $250 but there is one slot that's a "double" so a customer could win up to $500.
Although Capitol Collision Repair has always offered their customers a "Referral Reward" for sending customers their way, their spin wheel is new and quite the attention grabber for customers who are constantly inquiring about what the 4 foot round decorated wheel on the wall is for.
According to owner Dan Deary, "The customers who have spun the wheel so far absolutely love it, and it's a lot of fun to watch them anticipate where the wheel will stop and ultimately win. Even though the wheel is in essence "brand new," it's created a lot of buzz and I'm excited to see the results in a few months."
So just how does an idea like this take fruition? Deary said that as much as he would like to take credit for the novel idea, he credits his wife Sylvia with this one. "When she first told me about it, I wasn't near as enthusiastic as she was, but the more I planned building it, the more and more I liked it. I have to admit, it took me about a year to finish, but it was definitely worth the wait. It's super cool!" Deary stated.
Building the wheel was the fun (and time consuming) part according to Deary. He and the crew from Capitol Collision Repair first purchased a used 4' round table from a day care, removed the legs and hardware, filled holes left with bondo, then put a coat of primer to prepare the surface for the graphics. The top then received a vinyl wrap, similar to a vehicle wrap, which was designed, printed and applied by 1st Impressions Truck Lettering of Phoenix. The finished top then had the bearing mounted to it, the flapper and pins attached and the finished product was ready for action.
The first spinner naturally was Deary's wife Sylvia who was luck enough to land on the $150 slot. Rumor has it she was able to collect the winnings!
For a video showing the spin wheel in action, visit the capitol collision website at: http://www.capitolcollision.net/referral-rewards
About Capitol Collision Repair
Founded in 1988, Capitol Collision Repair is one of the largest independent auto body shops in Phoenix AZ. An A+ rated BBB Company, Capitol Collision Repair provides high quality, guaranteed repairs and is one the highest rated and reviewed Phoenix body shops. They offer I-CAR trained technicians are ASE certified and state of the art equipment and are approved by all the major insurance companies. Rental vehicles and free loaner cars are offered by Capitol Collision Repair
Free estimates are available by calling (602) 253-1630 to make an appointment.
Capitol Collision Repair
5154 N 27th Avenue
Phoenix, AZ 85017
Phone: (602) 253-1630
Email: info(at)capitolcollision(dot)net
Fax: (602) 253-6158
http://www.capitolcollision.net
Hours of Operation
Monday – Friday: 8:00 AM – 5:00 PM