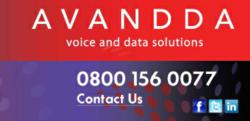 Effective business telephone systems are vital business tools.
(PRWEB) April 04, 2013
Businesses need to be conscious of the need to recycle outdated telephony hardware when they upgrade to a fresh new system, according to voice and data solutions provider Avandda.
Electronic waste is becoming an international issue of great importance, with enterprises and consumers trapped in an unforgiving upgrade cycle that makes it necessary to get rid of old equipment on a regular basis.
If this outgoing equipment is not properly disposed of, it is not only a waste of the precious materials that it contains, but could also become an environmental hazard.
Many businesses are actually finding that there is a financial incentive for recycling the technology that they are replacing, which is precisely the case with the recently announced telephone system scrappage scheme from Avandda.
By working with manufacturer Samsung, Avandda is able to offer its customers the chance to save up to £2459 when upgrading an existing telephone system. This is because the provider will recycle your unwanted telephone system and provide you with a free replacement chassis in exchange.
The sustainability of the scheme is assured since all companies that participate this year will be able to have their equipment recycled in line with the WEEE (Waste Electrical and Electronic Equipment) Directive.
This scheme applies to the Samsung OfficeServ systems and the cost saving made possible through recycling is based on the price of a new chassis for the OfficeServ 7400.
For many companies, the environmental benefits of taking this approach will be secondary to the advantages that can be gained from upgrading a business phone system through avandda.co.uk.
Adopting an IP platform for voice, data and wireless communications is something that can help to simplify the access to many of these solutions for modern businesses.
By making everything digital, benefits such as remote access, A/V conferencing and enhanced audio quality will all be available. Companies upgrading from an older, less well-equipped system will be able to experience the most radical enhancements to operability as a result of the scheme.
It is easy to see why incentivising the responsible disposal of outdated equipment is a sensible practice. Hopefully, many British companies will be encouraged to turn their next upgrade into something truly positive.
About Avandda
Avandda is a voice and data solutions provider that serves a wide variety of commercial clients with bespoke hardware and networking systems.
By promoting a sustainable approach to upgrades, Avandda is able to deliver superior packages to its business customers. For more information visit at http://www.avandda.co.uk/.