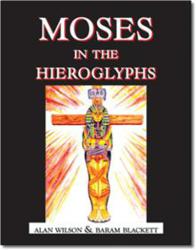 NORFOLK, England (PRWEB) June 20, 2013
"The assertion that there are no ancient Egyptian Hieroglyphic texts that make mention of the Hebrew Patriarchs Joseph, Moses, and Solomon and the Queen of Sheba is incorrect," authors Alan Wilson and Baram Blackett writes. "There are unmistakable Hieroglyphic texts." In their new book, "Moses In The Hieroglyphs" (published by Trafford Publishing), the authors share findings of the Nation of Khumry that they say state otherwise.
Historians have traced the nation of Khumry as the lost Ten Tribes of Israel. A strange Khumric Triad notation of around 100 years ago indicates the Egyptian connection and specifically refers to the hieroglyphic writings: the clear inference that Khumric is the basic language of the hieroglyphics.
"As there are large well-known chronological mismatches scattered all through the histories of the ancient nations of the Near East and the Mediterranean, and considerable confusions in the ancient history of Egypt, it appears logical that there must be something wrong with the historical data," the authors state.
Further researching these historical mismatches, Wilson and Blackett believe they have in fact uncovered the existence of Moses and others within ancient texts.
"Moses In The Hieroglyphs"
By Alan Wilson and Baram Blackett
Softcover | 7 x 9 in | 522 pages | ISBN 9781412056007
E-Book | 522 pages | ISBN 9781412235143
Available at Amazon and Barnes & Noble
About the Authors
Alan Wilson and Baram Blackett are historians with over 70 years of collective experience. They are meticulous researchers whose controlled and detailed analytical techniques have brought awe-inspiring results leading to the discovery of many truths.