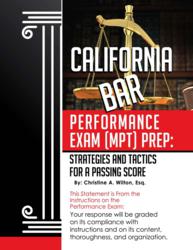 5 Steps to Passing the Bar Exam.
Huntington Beach, CA (PRWEB) January 17, 2013
Calling all repeat bar exam attendees who are tired of meeting their classmates every six months in Ontario, California. One attorney in California wants to help and has published a new guide called, California Bar Performance Exam MPT Prep. "Taking the bar exam can be a real headache, not only for the future lawyer, but for their family and friends as well," says author Christine A. Wilton, Esq.
Her guide promises to provide a surprisingly a simply strategy that works. Attorney Christine encourages future lawyers to stop wasting time and money with big box bar review courses that have examinees drawing diagrams for an hour or more when they could be working effectively on a passing performance exam response that will result in a passing score consistently. How does Ms. Wilton know that her process works? Well, before she passed the bar exam, she was achieving consistent results and passing scores on the performance exam. Her guide provides a simple, five step process for the performance test and she reveals what methods she used that moved her from repeat test taker to attorney.
Though her focus is on a specific strategy for passing the Multi-State Performance Exam, she gives future lawyers practical advice that applies to essays and MBE questions as well. Attorney Christine says that she knows five ways to fail and one way to pass the bar. "This is a three day standardized endurance test that requires an organized strategy to succeed," says Ms. Wilton. "Applicants don't need to spend a lot of money on bar prep courses. What they need, is practice and feedback on performance, coupled with practical advice to get them through this stressful time."
About Law Offices of Christine A. Wilton
Consumer protection and bankruptcy lawyers of Law Offices of Christine A. Wilton represent families facing financial difficulties, burdened by debts including taxes, student loans, credit cards, medical bills, law suits, fallen behind on home mortgage payments, or facing auto loans they can no longer afford. The firm has helped clients eliminate student loan debt and helped reduce principal mortgages through the bankruptcy process. The law firm is passionate about helping clients achieve financial freedom from their debts and fights oppressive debt collectors.
For more information please call 877-631-2220 or visit their website http://www.attorneychristine.com/ for a free consultation.