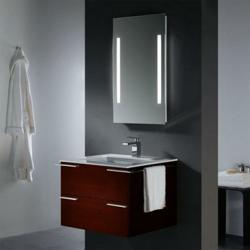 Backlighted mirrors provide the functionality of a makeup mirror, the light of a standard over-the-mirror fixture, and a modern touch that will make the bathroom utterly unique.
(PRWEB) October 13, 2012
HomeThangs.com – the Home Improvement Super Store has made their goal to deliver the right product to the consumer, with that in mind, shopping and home design tips, as well as special product selections are being introduced.
The bathroom is simultaneously one of the most difficult spaces in a home to light well, and the place where it's most important to do so. While lighting for function and ambiance is important everywhere, inside and outside of the home, the bathroom is where grooming is done, and the one place to get oneself looking good before stepping outside. Inadequate lighting in the bathroom means that not only will the morning routine be a little dark and dull, but also that one won't be putting the best face forward.
HomeThangs.com introduced a tip sheet on what can be done to improve task lighting in a bathroom - backlit mirrors offer a solution.
1. Typically bathroom mirrors are surrounded by lights, with a bar of lights on top or a sconce on either side. But though these lights are bright, they inevitably cast light from above or the sides, which shadows parts of the face, making it more difficult to shave or apply makeup. Backlit mirrors like the Fly F3 by Iotti cast light from inside the mirror and directly in front of the face, ensuring that there won't be any shadows.
2. Backlit mirrors, sometimes called backlighted mirrors or electric mirrors, are essentially mirrors with LED lights imbedded inside the mirror. Backlit mirrors produce a pure white light that gives a true sense of color as well as a shadow-free reflection, making it easier than ever to get a genuine sense of what one will look like outside the bathroom, even without any natural lighting.
4. The lights in backlighted mirrors are typically embedded in the sides or around the frame of the mirror so they won't block the reflection. Something like the Fly FL7 collection by Iotti is an answer to the old Hollywood vanities and makeup mirrors, replacing the big round bulbs with more subtle circular designs, keeping the impression of the old style but giving it a modern twist.
5. However big or small the mirror or how many lights it has, and however pretty it might be, the primary function is to illuminate the face. It can be difficult to find the right balance of ambient light in a bathroom – especially in a big, luxurious dream bathroom – but backlit mirrors have little or nothing to do with elaborate bathroom chandeliers or any of the other layered bathroom lighting. Something like the Concept One Bathroom Mirror by Iotti can more than easily replace an above the mirror light or a pair of sconces, but even in a relatively small bathroom, it won't be enough to light the whole room.
6. If getting ready to do a significant bathroom remodel, this is a good time to consider backlit mirrors, too. As yet, backlit mirrors aren't particularly common, but many high end bathroom designers like Iotti and Vigo often package backlighted mirrors with some of their modern bathroom vanities, as in the Concept One NC6 collection by Iotti. This can make it easy (and less expensive) to get a coordinated, over-all modern looking bathroom as well as a simple and stylish task lighting.
From simple bars of LED lights to ones with pretty patterns like the Backlit Mirrors from Eglo, backlighted mirrors provide the functionality of a makeup mirror, the light of a standard over-the-mirror fixture, and a modern touch that will make the bathroom utterly unique.
HomeThangs.com is more than just a Home Improvement Superstore. They're constantly seeking to provide homeowners and designers with the right products at competitive prices. With a wide selection of products, expert design tips, and comprehensive shopping guides, Homethangs is a company that's there at all stages of the design process, from idea to execution. It's their goal is to make dream remodels doable.