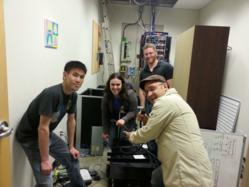 Menlo Park, CA (PRWEB) April 05, 2013
Thanks to wonderful community support the Hacker Dojo has recently moved into their new Mountain View space. Moving into the new space is a grand accomplishment for the member supported non-profit Hacker Dojo and thanks to Baynetwork, Inc.'s donation of three 3000W uninterrupted power supplies for their IT configuration the Dojo members can hack away with minimal worry of power failures.
Silicon Valley Managed IT Service and IT hardware re-seller Baynetwork, Inc. of Menlo Park. Baynetwork, Inc. learned about the Hacker Dojo's needs through relationship building in the Silicon Valley's dominating start-up / hi-tech entrepreneurial space. The Dojo's current need for UPSs' was perfect timing. Baynetwork, Inc. company initiatives support innovative thinking and entrepreneurship, the Silicon Valley based Managed IT Service company found the IT related equipment donation to the Hacker Dojo an ideal opportunity to be part of the next generation tech savvy professionals.
Baynetwork, Inc. continues to build a brand presence as a premier IT re-seller and expert in network equipment deployment and post-sales support services. As cloud services are pushing further into SDN (Software Defined Networking) Baynetwork wanted to remind the next generation of innovators that all this not only happens because of forward thinking, but because companies like Baynetwork continue to keep Managed IT Services and costs associated to premier brand network equipment down to realistic and affordable levels. "We have helped lead the way in lowering IT costs for over 15 years. Resourceful start-ups, established businesses and even educational campus environments appreciate our affordable approach to making IT happen." Jason E. Sutherland Web & Marketing Director.
About Hacker Dojo
Hacker Dojo http://www.hackerdojo.com is a community of members who share a common love of creating wonderful things and understanding how the world works. You don't need to be a programmer to use/enjoy the space. The Hacker Dojo is a do-ocracy run by members, including several self-organizing teams like events, government, and operations. It is located in Mountain View, California.
About Baynetwork, Inc.
Since 1997, Baynetwork, Inc. a premier re-seller of new, pre-owned, refurbished and used network hardware equipment, used Cisco Routers, Juniper Switches, Dell Blade Servers, Barracuda Firewalls, Ixia Testing Equipment, ShoreTel VoIP and many other premier IT hardware brands, has helped define and shape the secondary IT network equipment market industry. From complete network design and configuration to security analysis and private cloud deployment, Baynetwork's array of managed IT services and rapid product procurement help thousands of companies deliver digital media and content across the globe with reduced costs and shortened lead-times. Baynetwork services also include major network appliance repair, IT network asset recovery, enterprise network security, data center IT hardware replacement and managed IT services.
#########
The names of actual companies and products mentioned herein may be the trademarks of their respective owners.
For more information, press only:
Jason E. Sutherland, Marketing Director, (650) 561-8145, jason.sutherland(at)baynetwork(dot)com
For more information on Baynetwork, Inc.:
http://www.baynetwork.com