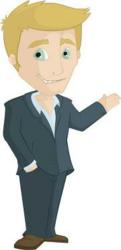 The great thing about Daegan is how candid and straightforward he is in everything that he says and does.
Austin, TX (PRWEB) October 05, 2012
BetterNetworker recently released an all-new, exclusive interview with BN Instructor Daegan Smith. This interview, which was conducted by BN Editor Andrew Draughon, as part of a new product the company is creating, is only available for members of the ABN (Association of BetterNetworkers). It can be found in the "Leaders Library" section of the site, which is an area restricted to ABN members that contains dozens of other premium training interviews, speaker presentations from live events, and other exclusive content.
Smith, who has been a BetterNetworker member since April 2009, is a top earner and respected leader in the network and Internet marketing industry. Known as "The King of Never Calling a Single Lead," Smith initially worked for a pharmaceutical company following his graduation from Duke University, then ventured into the field of real estate before finally becoming acquainted with Internet and network marketing.
Today, Smith is a highly successful entrepreneur who makes up to six-figures per month, and is invited to speak at notable industry events such as No Excuses Summit and Live the Dream.
The interview, which is approximately 60 minutes in length, covers a wide variety of topics. Smith discusses his daily routine, his main revenue-producing activities, how much time he spends reading per day, the upcoming trends he sees emerging in the industry, the importance of creating a USP (Unique Selling Proposition), how to create an irresistible offer even if you're just getting started, the biggest failures he has experienced, and much more.
"The great thing about Daegan is how candid and straightforward he is in everything that he says and does," says Draughon. "There's no sugarcoating anything, no dancing around a question. He's not afraid to tell you exactly what he thinks and what he's done to achieve a particular result, which is extremely valuable for our members. He's a genius at what he does, so for him to sit down and talk for an hour about what he's doing that's working right now is really an incredible asset for people to benefit from."
"Anytime we get to sit down with Daegan, we have a great time," says BetterNetworker Editor Victoria Garment. "He's incredibly intelligent yet extremely down-to-earth, so the result is that you get highly actionable training tips delivered in a very easy to understand way, which is exactly what our members are looking for to help them grow their business more effectively."
The full interview can be found by clicking on the following link: http://www.betternetworker.com/podcasts/view/marketing/single-greatest-opportunity-history-email-marketing