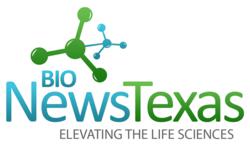 The Texas biotech industry is one of the fastest-growing in America today.
Dallas, TX (PRWEB) May 01, 2013
BioNews Texas, a web property of BioNews Services, LLC in Dallas, Texas, announced today that it is the first digital publication of its kind to offer comprehensive daily news coverage of the Texas biotech and life sciences sectors. The website staffs six talented journalists, who publish articles seven days a week on business, science, and political news that pertain to the biotech industry in Texas, producing an average of ten new, original articles a day.
The goal of BioNews Texas – to forge a 24/7 news cycle for the Texas biotech sector – is the vision of BioNews Texas Publisher Chris Comish, who indentified early on that the burgeoning biotech sector in the Lone Star state – worth over $70 billion at present and employing approximately 100,000 researchers and business professionals – was in desperate need of a central hub of online news and information. "The Texas biotech industry is one of the fastest-growing in America today," Mr. Comish recently explained.
The rapid growth of the biotech industry in Texas has been led in large part by the low-tax, low-regulatory policies of Governor Rick Perry, helping the sector to grow exponentially over the past few years, with an increasing number of startups moving into Texas to take advantage of the pro-business climate. Together with top research institutions, such as Texas A&M, MD Anderson Cancer Center, UT Southwestern and Baylor College of Medicine, as well as the Cancer Prevention and Research Institute of Texas (CPRIT), the nation's largest cancer-funding agency, Mr. Comish feels that Texas has all of the components needed to become a leading biotech hub in the U.S. – and BioNews Texas is well-positioned to become the central news and information outlet for the Texas biotech industry.
He goes on to explain:
"Our plan is to greatly expand our products and services on the website to include industry specific job boards, a resume database, premium company profiles and service provider lists, deep industry research capabilities, quarterly research digests, an influential monthly newsletter, and other valuable industry resources, in addition to our unparalleled news coverage of the biotech and life sciences news coming out of the state. Our long-term goal is to make BioNews Texas into the premier online destination for the biotech industry here in Texas."
After only three months in operation, BioNews Texas has managed to make a significant mark in Texas, running exclusive articles and interviews of high profile Texas researchers such as Dr. Peter Hotez, a leading Baylor College of Medicine virologist, as well as MD Anderson cancer researchers. BioNews Texas has also gained the inside track on several stories surrounding the ongoing CPRIT scandal. The vast majority of the site's 25,000 visits come directly from the Texas biotech sector.
Press inquiries contact: Mike Nace, Editor-in-Chief – mike.nace(at)bionews-tx(dot)com