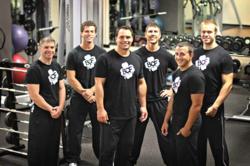 Our clients are part of something really special.
OMAHA, Nebraska (PRWEB) April 29, 2013
Black Clover Fitness, Omaha's premier personal training and wellness center, will open a second location off 192nd and Q Street in Southwest Omaha. Owner Corey Cain announced the June opening of the new facility that will provide the same unique block training system that focuses on weight loss, toning and nutrition.
Voted Best Fitness Training Facility by Omaha Magazine three years in a row, Black Clover Fitness offers a high-intensity, body transforming personal training program in a fun and safe environment. Cain's cutting-edge, small-group gym concept delivers a fast and effective fitness solution for his busy clientele.
"We offer one-on-one training in an all-inclusive concept," Cain says. "You train with us for 45 minutes three days a week, and come in and use facility any time you want outside of your personal training schedule.
"We also cap our facilities at roughly 130 clients, so our clients are part of something really special."
Cain's staff of fitness professionals come with the industry's top credentials and participates in writing Black Clover Fitness's educational blog articles. They also maintain a video blog that delivers important tips and fitness trends to customers who can view the videos straight from their smartphones or tablets.
Membership to Black Clover Fitness ranges between $325 and $400 monthly, which includes three, 45-minute personal training sessions weekly, a complete nutritional program designed by an on-site nutritionist, group sessions and access to the clean, state-of-the-art facility with meticulously maintained equipment.
According to Cain, the first 50 customers to sign up for memberships at the new Q Street Fitness Center will pay only $249 monthly for the first six months – a $500 savings. Cain credits the Black Clover Center's success to its state-of-the-art equipment, immaculate facility and expert customer service.
"The Best motivator comes from our quality of service," Cain says. "Our service is impeccable, we build relationships with people."
Black Clover Fitness clients receive a total fitness assessment at the start of their program and every four to six weeks thereafter. Cain has adapted sophisticated technology to help monitor each client's progress, which is stored in the Center's database. Clients can access their files online 24/7 to keep track of their progress outside of the gym.
"We are all about delivering a level of professional accountability that is lacking in the fitness industry, which is why our clients are so successful," Cain says.
Black Clover Fitness Center currently operates at 3821 N. 167th Court, #130 in Omaha. The address of the new center opening in June is 19102 Q Street in Omaha.
For more information, visit the Black Clover Fitness website, call 402.991.7700, visit the http://blackcloverfitness. blogspot.com/ [Black Clover Fitness Blog, __title__ ] and check out our Facebook page.
###