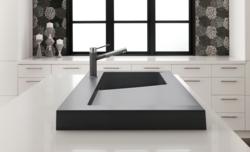 You can put it to work and abuse it. It's as tough as it is gorgeous.
Lumberton, NJ (PRWEB) June 14, 2013
BLANCO, the German manufacturer of finely made sinks and faucets, debuts the luxurious BLANCO MODEX kitchen sink workstation. MODEX is a 2012 Red Dot International Design Award winner for its distinct raised profile, cubic style and innovative dual draining system. Part of the BLANCO SILGRANIT® II collection, this handsomely crafted modern sink embodies a high design standard with its extraordinary form and generous, flowing surfaces.
"Already recognized internationally for its striking design, MODEX combines high performance and architectural structure in perfect harmony," states Tim Maicher, Director of Marketing for BLANCO. "Proprietary characteristics such as an integrated ash cutting board gives functionality and space-saving convenience to the sink, not to mention a generous amount of usable surface space."
MODEX is as durable as it is beautiful – made from BLANCO's patented SILGRANIT II formula, it is resistant to heat, chips, scratches, food acids and offers an impervious Hygienic+Plus shield against bacteria and dirt. "You can prep, cut and clean right on MODEX," continues Maicher. "This is a workstation and sink in one. It's a stunning fixture that you don't have to treat delicately. You can put it to work and abuse it. It's as tough as it is gorgeous."
Details:

The MODEX comes in Cinder, Anthracite and White colors.
Bowl size: 19-1/2"w x 15-3/4"L x 7-7/8" D
Available Spring 2013
Retails at $1,750