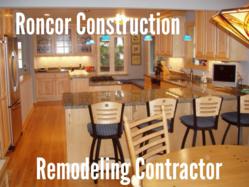 Leasing office space from JGM has been wonderful!
Minneapolis, MN (PRWEB) April 18, 2013
Custom remodelers Roncor Construction is celebrating their 13th year leasing Bloomington office space at the 10740 Lyndale Avenue location. Roncor Custom Rebuilders has been remodeling homes in the Minneapolis, St Paul, Twin Cities area for over three generations.
Roncor Construction specializes in projects as basic as roofing, siding and window work; to complex projects such as: home restoration, green remodeling, garages, deck and porch construction, as well as kitchen and bathroom design and remodeling. Roncor's state of the art rendering software allows customers to see a visual representation of a customer's project before major work has begun.
With over 30 years of experience and excellence, Roncor has established themselves as a professional and successful home remodeling and restoration contractor. Believing that the main reason why people remodel or rebuild their homes is not for resale value, Roncor believes their customers seek remodeling for their own enjoyment.
Roncors's designers work with their customers to fit their budget and create the best projects possible, big or small; offering several different levels of design for new customers. Even if you already have a contractor, Roncor can walk you through the design process and produce construction documents for your current contractor to use. For every design, Roncor maps out the project as though they will be building it to fruition.
Roncor is a member of MN Green Star, The Builders Association of the Twin Cities, The National Association of the Remodeling Industry (NARI,) The National Kitchen and Bath Association and The Better Business Bureau
For more details, or to set up a free consultation, contact Roncor Construction:
Address:
Roncor Construction
10740 Lyndale Avenue
Bloomington, MN 55420
Phone:
952-888-5578
Owning and managing 11 suburban Minneapolis office space and warehouse buildings, including the 10740 Lyndale Avenue property, JGM Properties currently has over 200 commercial real estate tenants. Founded in 1980, JGM Properties provides competitively priced office, warehouse, and retail space for lease in Minnesota.