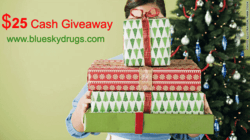 We are pleased to offer new customers a seasonal treat on purchases of prescription drugs. Cash coupon is available for a limited time, so shop now and come back often!
Vancouver, BC (PRWEB) December 14, 2012
With the holidays in full swing, BlueSkyDrugs.com, an online Canadian Pharmacy, is happy to offer a December treat to all new customers. Valid through December 31, don't miss taking advantage of $25 in cash, coupon code Cash25, on any $200 purchase.
Blue Sky Drugs takes great pride in being able to offer quality generic drugs at affordable prices to customers all over the world. They understand that often the prohibitive cost of drugs makes being sick even more difficult. If you are a new customer, Blue Sky Drugs invites you to redeem your coupon, code Cash25, by either going online at http://www.BlueSkyDrugs.com or calling the toll free number, 1-866-995-7387. If your order is at least $200, the cash offer of $25 will be deducted immediately from the price of your order. Blue Sky Drugs pharmacists are highly qualified, guaranteeing the satisfaction of all of their customers.
The price of drugs is soaring in the United States. Many Americans can't afford their needed medications. Unfortunately, some people end up skipping doses or even going without the much needed treatments. Popular name brand drugs have increased in price by as much as 41% in the past few years. Blue Sky Drugs, an online Canadian pharmacy, offers quality generic drugs at much more affordable prices. New customers can search for medications that they need by visiting the Blue Sky Drugs website. Ordering by phone, online, or fax makes shopping easy. Customer representatives are available to assist you from 5:30AM - 6:00PM Monday to Friday and from 7:00AM - 3:30PM on Saturday (Pacific Time). Staying healthy is important to the quality of life that we lead.
About Blue Sky Drugs
Blue Sky Drugs, a provider of online Canadian pharmacy services, offers quality generic drugs at much more affordable prices. All prescriptions are filled by qualified pharmacists. Generic medications are of the same quality and potency as their brand-name counterparts, yet are available at much more affordable prices. Visit the freshly redesigned website at http://www.BlueSkyDrugs.com where customer satisfaction is guaranteed.