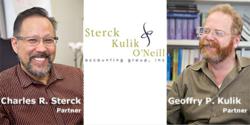 Our bookkeeping service will let you work ON your business and not get buried IN your business.
San Francisco, CA (PRWEB) May 16, 2013
Certified Public Accounting firm Sterck Kulik O'Neill this month inaugurated Integrated Bookkeeping Services for San Francisco area businesses. The independent firm started this new service to meet the needs of clients who had expressed a desire to have a single contact responsible for their financial systems and reports.
"We have eliminated a potential for finger pointing between a client's financial advisors," explained partner Charles Sterck. "Tasks, schedules, and reporting responsibilities are much easier for business owners to track."
The accounting firm has dedicated bookkeeping personnel available to work either at a client's site or in the firm's San Francisco office near Union Square. In addition to physically giving their information to Sterck Kulik O'Neill's staff on paper or on electronic media, clients may choose to send their confidential financial information via industry standard ProSystem fx Portal. This technology allows bookkeepers, accountants, and clients to access documents 24 hours a day, 365 days a year via a secure online repository.
The bookkeeping service will improve the communications between the bookkeeper and the accountants who provide tax preparation, government compliance, and business development support. Bookkeepers will also help businesses set up QuickBooks or other accounting systems.
Bookkeeping will be offered as a stand-alone service and in-tandem with other accounting engagements. The firm will also work with third-party bookkeepers selected by a client.
"We will continue to support accounting clients who have a relationship with independent bookkeepers," Sterck reassured. Sterck Kulik O'Neill has coordinated with a variety of bookkeeping companies for many years, and wants those relationships to remain strong. "We are adding an option for clients and will not disrupt systems that are in place and working!" he explained.
"The goal of our bookkeeping service is to let you work ON your business and not get buried IN your business," Sterck concluded.
About Sterck Kulik O'Neill Accounting Group
Sterck Kulik O'Neill Accounting Group is a San Francisco CPA firm that specializes in tax services, business development, strategic planning, and IRS audits in San Francisco. Sterck Kulik O'Neill Accounting Group serves all San Francisco Bay Area communities.