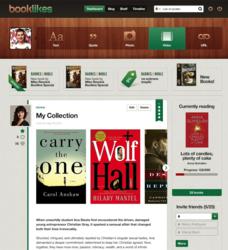 I love Booklikes because of the clean design, simple and easy to use and the fact that you're basically posting your reviews on a mini blog on the site itself I think that's what makes it so unique than the other book sites out there. (...)
(PRWEB) May 14, 2013
BookLikes announces its public launch after eight months of beta tests. The service, a blog platform for book lovers with a strong social component, lets users create a personal webpage with a blog, virtual bookshelf and reading timeline. It's a mix of a Tumblr-like blog platform, book cataloguing site and social network which provides new possibilities for book lovers.
"The experience gained from creating the first version of BookLikes which was a typical book-social site showed us that readers want something more, they were seeking more personalization on their reading profiles and more ways of expressing themselves than only by writing book reviews. We decided on a big change, gathered feedback and implemented users' suggestions. That's how the new version of BookLikes arose," says Dawid Piaskowski, BookLikes' founder.
BookLikes is a blog platform designed particularly for people interested in books, with functions dedicated to readers which makes it a better choice for book bloggers than other platforms, e.g. Blogspot, Tumblr or Wordpress. The service makes it possible to easily share book reviews using specially designed templates. Users can look for books from the largest bookstores from all over the world, connect books with their writing and shelve them on a personal virtual bookshelf. Within eight months of beta testing, it gathered 8,000 bloggers who set up their webpages and shared their reading life.
"I love Booklikes because of the clean design, simple and easy to use and the fact that you're basically posting your reviews on a mini blog on the site itself I think that's what makes it so unique than the other book sites out there. (...)" - says Caroline, book blogger and BookLikes user from Canada.
BookLikes launches new functions and personalization features once a week. Upcoming releases include new personalization features, synchronization with other book-social services and open API, which will allow synchronization of BookLikes with reading apps and will open doors for developers to create new applications for BookLikes. Now BookLikes offers book databases for users from 12 countries: Austria, Canada, China, France, Germany, Italy, Netherlands, Poland, Spain, Sweden, UK, USA and within next several weeks plans expansion on other countries.
For more information, please visit http://BookLikes.com/press.