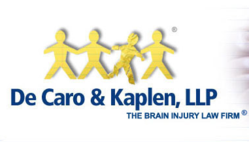 Pleasantville, NY (PRWEB) April 03, 2013
New York brain trauma attorney Michael V. Kaplen, a nationally regarded legal expert in traumatic brain injury litigation, will be a guest panelist on July 17, 2013 at the Brain Injury Symposium sponsored by The George Washington University in Washington, D.C.
The traumatic brain injury symposium is an integral part of the five-day summer institute multi-disciplinary brain injury program at The George Washington University open to graduate-level students in the fields of education, counseling, psychology, social work, medicine, nursing, law, and related therapies and designed to explore multi-faced issues in brain injury and education.
Brain injury attorney Kaplen serves on the symposium's advisory committee. The brain injury symposium focuses on the ramifications of "mild" brain injury and concussions to individuals and family members and will address educational issues affecting learning and concentration following a concussion or mild traumatic brain injury. Students enrolled for credit will attend the symposium as part of the institute. Non-credit seeking graduate students, professionals in the field of brain injury, teachers, administrators, and families are invited to register for the one-day symposium.
New York personal injury attorney, Kaplen, a member of the New York law firm, De Caro & Kaplen, LLP also participates as a guest lecturer in the Master's Degree Certification Program at The George Washington University School of Higher Education and Human Resources, Brain Injury: Educational and Transition Services.
Kaplen is a nationally regarded legal expert in the field of traumatic brain injury law. He has served as chair of the American Association of Justice, Traumatic Brain Injury Litigation Group, and as president of the Brain Injury Association of New York State. Brain trauma attorney Kaplen is also the current chair of the New York State Traumatic Brain Injury Services Coordinating Council and member of the Board of Directors of the American Board of Professional Liability Attorneys, the Melvin Belli Society and the New York State Academy of Trial Attorneys. He has been named a New York Super Lawyer each year for the past seven years and is Board Certified in Civil Trial Practice by the National Board of Trial Advocacy and Medical Malpractice by the American Board of Professional Liability Attorneys.
Kaplen practices in Pleasantville, New York with his partner, personal injury attorney, Shana De Caro. Together they represent victim of brain injury and other personal injuries caused by unsafe drivers, bus and truck accidents, dangerous construction sites, commercial premises and apartments, and medical malpractice and hospital malpractice. Kaplen publishes the influential brain injury news and information blog, http://www.BrainInjury.blogs.com. Further information on the practice areas of De Caro & Kaplen, LLP can be found on the firm's website, http://www.BrainLaw.com.