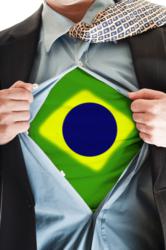 Everyone is thinking about Brazil, but nobody knows quite where to start. And that's where we can help.
São Paulo, Brazil (PRWEB) December 04, 2012
Angélico Law, a boutique Brazilian law firm specialized in assisting American clients with their start up and global expansion efforts, is guiding more and more foreign clients on starting businesses in Brazil. The firm, with over twenty years of experience in providing legal advice for Brazilian clients, this year began advising international clients as well.
With the hiring of Gregory Barnett, a former US "big law" corporate lawyer with experience in cross-border transactions in Latin America, the firm has dedicated its practice to providing the same, high quality legal services to foreign clients that it has been providing to domestic clients for years.
According to Barnett, doing business in Brazil is like doing business in no other country in Latin America. "Everyone is thinking about Brazil, but nobody knows quite where to start. And that's where we can help."
Barnett, an American lawyer and foreign legal consultant in Brazil, coordinates the firm's international practice. His role is to help bridge the gap - whether language, business, or legal - for clients who recognize the large opportunities and potential that Brazil has to offer, but require a level of personal attention that most other domestic law firms simply cannot provide.
Particularly for international clients, the guidance of a trusted lawyer or law firm is paramount for success abroad. Opening a company in Brazil is not something that can be done overnight like in the United States. There are filings with the commercial register; there are filings with the federal tax authorities; there are filings with local and state agencies. And each of these filings and approvals takes time.
"I find that I spend a lot of my time educating my clients about the processes here in Brazil," said Barnett. "It is important that they understand the legal system, how it works, and what we are doing to help them accomplish their business objectives."
And that is why Angélico Law is different from other Brazilian law firms. They understand the needs of international clients and are there to help them along each step of the way. The goal is always to provide the greatest assistance necessary to help those foreign individuals and companies that want to start their own businesses in Brazil.
For more information about the services offered by Angélico Law, contact the firm toll free at 1-866-606-4118.