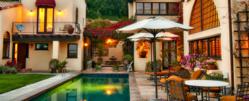 Bridges to Recovery specializes in depression, bipolar and trauma-based disorders.
Santa Monica, CA (PRWEB) December 31, 2012
Bridges to Recovery (BTR) has reached the ten-year milestone as Southern California's premier private residential behavioral health program for adults with psychiatric disorders, licensed by both the Department of Mental Health and Department of Social Services, announced Medical Director, Dr Michael Brodsky.
Integrating in-depth psychotherapy with non-traditional therapies that are personally tailored to clients' specific needs, BTR's residential treatment program utilizes a "whole person" approach that considers mental, emotional and physical wellness. BTR specializes in depression, bipolar and trauma-based disorders.
"We are extremely proud that the success of this model for residential mental health treatment has been affirmed by our steady expansion over the last ten years. We continue to experience increased demand for a high level of psychiatric care in a residential setting, where the recipients feel at home and comfortable as they are healing," said Dr. Brodsky. BTR began in 2002 with a single location in Pacific Palisades, and has since grown to include six-bed facilities in Bel Air, Santa Monica and Pacific Palisades.
Along with recognizing a decade of providing quality, integrative residential care, BTR used this anniversary to pay tribute to its founding Medical Director, Terry V. Eagan, M.D., for his dedication to improving the quality of care provided to patients struggling with mental and behavioral health issues. Dr. Eagan, a prominent Beverly Hills psychiatrist and founder/CEO of Eagan Medical Group, LLC., played an integral role in the early stages of developing BTR's singular approach to residential care.
"Without the early vision and guidance of Dr. Eagan, BTR would not have been able to successfully treat hundreds of patients over the last decade," said Dr. Brodsky.
With nurturing, compassionate, coordinated care, the BTR model ensures that patients and clinicians carefully construct a "road map" for a healthier and more productive life. BTR provides each person with a unique treatment plan that meets his or her specific needs and that diligently investigates resources for continued, competent, and appropriate clinical care beyond residential treatment.
Read the Bridges to Recovery testimonials by clicking here: bridgestorecovery.com/testimonials/