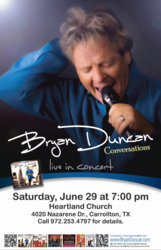 Duncan is offering everyone a chance to hear his entire Conversations album and the stories behind the songs free at SoGoodForTheSoul.com.
Carrollton, Texas (PRWEB) June 21, 2013
Christian music legend Bryan Duncan will perform a concert at Heartland Church in Carrollton, Texas on Saturday, June 29 at 7:00 pm.
Duncan is offering a VIP experience, concert tickets and other perks through a special crowdfunding campaign through June 23. Duncan is an enthusiastic proponent of crowdfunding and social media as means to connect more deeply with his audience.
People can hear Duncan's entire Conversations album and the stories behind the songs free at SoGoodForTheSoul.com
Duncan started performing professionally with the Sweet Comfort Band and recorded six albums with them before launching a solo career. He has released 14 solo albums, including his new album Conversations, and three more with The NehoSoul Band, selling in excess of 1.2 million records and videos.
Duncan was inducted into the Christian Music Hall of Fame along with Amy Grant and Al Green. His recordings have been celebrated with four Dove Awards and one Grammy Award.
The I See You Tour features Duncan performing some of his 16 No. 1 radio hits and songs from his new album Conversations, including the hit song I See You, a grateful acknowledgement of God's presence and participation in our lives.
"My wife does this thing throughout the day," says Bryan Duncan. "She'll be working at something and out of the blue she'll just stop, point to the sky and say 'I see you!' I had to smile because it is such a great example of being in the moment with God. I don't see that kind of acknowledgement of God very often. It seemed like the perfect idea for a song."
Duncan's father/son duet, Every Father Is A Son, was released to radio recently. Duncan is working with radio stations - doing interviews and giving away music - throughout June. He hopes to encourage their listeners to honor their dads on more than just Father's Day.
Every Father Is A Son, a poignant look at a relationship between a father and his child, features Bryan Duncan's youngest son, Devin, sharing the lead vocals.
"I wasn't thinking about recording the song with my dad for an album," says Devin Duncan. "My grandfather was in declining health and I thought the song would be meaningful for our family."
"My father's death was kind of a wake up call," says Bryan Duncan, "that reminder that we all get, when someone close to us dies, that our time here is short."
"One of the themes in the song is remembering how precious our time together is. I wanted to share the experience of recording the song with my son and share the finished version with fathers and their children everywhere."
Duncan is donating Every Father Is A Son to the Dads Who Serve and Fathers Who Serve campaigns throughout June.
Fathers Who Serve pays tribute to fathers who serve their communities and country as first responders and in the military. These fathers make sacrifices that may include missing significant celebrations, like Father's Day, with their children. Anyone can give Duncan's father/son duet free to a father who serves at FathersWhoServe.org.
The Dads Who Serve campaign is celebrating fathers who serve children directly – as teachers, ministers, coaches and volunteers in children's programs. The campaign is using Father's Day as a springboard to celebrate engaged dads for more than just a day. It aspires to encourage more fathers to serve children in their schools, churches and communities by rewarding those who do, by featuring stories of dads who serve and by highlighting the critical role dads can play in programs that serve children.
"We're excited to have Bryan at Heartland Church," says Associate Pastor Dusty Dean. "His message of hope is exactly in line with what Heartland Church offers people who have been bound by addiction and hopelessness! The gospel message could never be portrayed in a greater way than through those whose testimonies speak for themselves"
"Heartland Church is a community of believers whose focus is to lead people of all walks of life into a thriving relationship with Jesus Christ and with others. Heartland offers a place of common ground where anyone, from any background, can plug in and find a Christ-centered family full of dynamic love and hope."
Dan Dean, Lead Pastor of Heartland Church, is one-third of the popular Christian music trio Phillips, Craig and Dean."
Concert tickets are available directly from Heartland Church. Call 972.253.4797 for details.