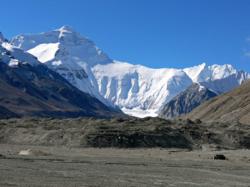 Can I travel to Mt. Everest with a low tour budget for my Tibet dream trip?
(PRWEB) April 25, 2013
Lhasa based Tibet travel agency, Tibet Ctrip Travel Service-TCTS (http://www.tibetctrip.com), is working to improve low cost travel in Tibet with its new lineup of Tibet budget tours. In the past, travelers visiting Mt. Everest were faced joining a crowded tour group of 20-30 people or bearing the cost of a private tour. With TCTS's new Budget Tibet Everest Tour, small travel groups will be matched to form a tour of up to 10 people. Now travelers can cut costs without sacrificing the comfort and flexibility of a private tour.
The adventure begins in Lhasa; the travel group's native Tibetan guide will meet them at the airport or train station and accompany them to Lhasa via shuttle bus. After checking into their hotel, group members are encouraged to take it easy while acclimatizing to the altitude. It is best to keep walking at a reasonable pace and drink lots of water. Over the next two days, the Tibet tour visits cultural sites in and around Lhasa such as Potala Palace, Jokhang Temple, and Sera Monastery.
After sightseeing in Lhasa and acclimatizing to the altitude, the group heads for Mt. Everest. Along the way there are many opportunities to stop for pictures of fantastic mountain landscapes, including at Lake Yamdrok. Travelers will visit Kumbum Pagoda and Pelkhor Monastery in Gyantse and stay overnight in Shigatse, Tibet's second largest city. Before leaving Shigatse for Mt. Everest travelers will visit Tashilhunpo Monastery, seat of the Panchen Lama.
The tour of Tibet reaches Mt. Everest in the afternoon, travelers will have time to rest and relax while they enjoy views of the mountain. The group will stay overnight in one of the tent camps and wake up early for closer views of the mountain. Travelers who come in late spring or early fall are in for stunning crystal clear views! Afterwards travelers will head towards Lhasa, making another overnight stop in Shigatse.
Mt. Everest is certainly one of Tibet's most popular travel destinations! Not only is the mountain itself beautiful, but the scenery en route is nothing short of breath taking. On a TCTS budget Tibet tour the group is small, allowing for more opportunities to enjoy the mountain landscapes and ask their native Tibetan guide questions about the cultural and historical sites they visit; together providing a more authentic Tibet travel experience. The best time to visit Mt. Everest is coming up fast; travelers are advised to start planning their tours now.
Devin Moore provided this news release above on behalf of TCTS-Tibet travel agency in Lhasa. Devin is a travel writer and independent economic analyst based in Springfield, Missouri USA. His economic research is currently focused on airfare pricing. Devin Moore works to spread awareness of Tibet and its people through publishing Tibet travel information.