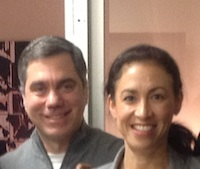 ...hearing incredible success stories from entrepreneurs like these is invaluable for others who are just getting started.
Atlanta, GA (PRWEB) December 04, 2012
On Friday November 30th, 2012, Micah Porter and Dana Barrett, co-hosts of Disruptive Business radio on Business RadioX®, were joined by leaders from three companies who are on the cutting edge of their respective industries; Radhika Subramanian, CEO of Emcien, Kobi Margolin with Clinigence, and Jesse Lindsley, the driving force behind Thrust Interactive.
Each guest talked about their respective careers and current work, including Radhika explaining the challenges of getting useable information from big data, Kobi discussing technology in the healthcare sector and Jesse talking about the applications for gaming in the business world.
After the show, Host Micah porter noted that hearing incredible success stories from entrepreneurs like these is invaluable for others who are just getting started. "These are the people who are paving the way and their stories of both success and failure are so beneficial to their peers", said Porter.
As on every episode of the fledgling show, in addition to talking about their technology specifically, each guest also shared how they have dealt with the disruption in their lives that growing a business causes.
To learn more about Emcien, Clinigence and Thrust Interactive, listen to the complete interview on the Disruptive Business Radio page for Business RadioX®
http://disruptivebusiness.businessradiox.com/2012/11/30/emcien/
About Disruptive Business Radio
http://disruptivebusiness.businessradiox.com/
Disruptive Business radio celebrates individuals and businesses that change the game by featuring cutting edge organizations and the innovative leaders who guide them. The show is hosted by Micah Stone, Lee Kantor and Stone Payton and is a joint production of Business RadioX® and Minerva Planning Group.
About Business RadioX® :
Business RadioX® provides a turnkey solution for business owners who want to leverage the power of internet radio to meet their best prospects, establish credibility for their organization and heighten the placement of their brand in search engines rankings. With a professional venue and a proven formula, Business RadioX® helps hosts podcast their shows and create a regular stream of dynamic content to share with their prospects and feed the search engines every week. Programs are recorded and streamed live to the internet from our studios in the greater Atlanta area. For more information or to hear a live show, visit: http://www.businessradiox.com.
###