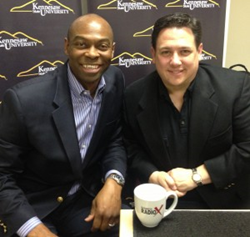 Entrepreneurship is a life skill, that everyone can and should learn.
Atlanta, GA (PRWEB) April 22, 2013
On Tuesday April 16th, 2013, Alvin Miles host of Global Leader Radio™ on Business RadioX®, was joined in-studio by Scott Shickler, Co-Creator & Author, 7 Mindsets to Live Your Ultimate Life to talk about how one question uncovered a blueprint for him to live a life of "greater potential, meaning and significance."
Scott shared his story with host Alvin Miles as an example of how to help listeners change the course of their personal and professional lives.
Noted as one of the world's leading experts on empowerment, Shickler is a sought-after speaker, thought leader and advocate in his field. Called a "serial and parallel entrepreneur" by the Wall Street Journal, Scott's companies have collectively grossed more than $37 million with businesses ranging from software to seminars, real estate to retail.
Scott has authored and coauthored eight books including The 7 Mindsets to Live Your Ultimate Life and has been featured in a variety of media including CNN, ABC and NBC News, The New York Times and The Wall Street Journal. He is also the cofounder of the Magic Wand Foundation, a non-profit organization devoted to empowering youth to live their dreams, as well as CEO and founder of Excent Corporation, a global education company serving millions throughout the world.
During the interview, Scott shared the following advice with Alvin and the show's listeners:
1. There is no minimum age to be an entrepreneur.
2. Entrepreneurship is a life skill, that everyone can and should learn.
3. Emulate success to achieve success.
4. Happy and successful people focus on mindsets.
5. The real danger is not in dreaming too big but setting goals too low.
6. Stretching and reaching is required to optimize a business.
7. Employees must be aligned with their passion in order to create a positive workplace.
To learn more about empowerment, listen to the complete interview on the Global Leader Radio™ page for Business RadioX®.
About Global Leader Radio™
http://globalleaderradio.businessradiox.com/
Global Leader Radio™ airs Tuesdays at 2:30 p.m. Eastern on BusinessRadioX.com and features conversations with those responsible for cultivating high potential leadership in corporate, entrepreneurial and not-for-profit organizations. Host Alvin Miles and his guests Discuss Ideas that Matter With People Who Care℠ with a particular focus on those individuals and organizations doing an exemplary job of identifying, attracting, developing and retaining high potential talent.
Global Leader Radio™ is brought to you by the award-winning Executive MBA Program (EMBA) at the Michael J. Coles College of Business.
About Business RadioX® :
Business RadioX® provides a turnkey solution for business owners who want to leverage the power of internet radio to meet their best prospects, establish credibility for their organization and heighten the placement of their brand in search engines rankings. With a professional venue and a proven formula, Business RadioX® helps hosts podcast their shows and create a regular stream of dynamic content to share with their prospects and feed the search engines every week. Programs are recorded and streamed live to the internet from our studios in the greater Atlanta area. For more information or to hear a live show, visit: http://www.businessradiox.com.
###